The best coffee table for your home does not just come with useful features or built with solid materials, but it is also complements your interior, making it complete.
A coffee table is is a low-lying table that is used as a centerpiece for the furniture in the living room. It doesn't really influence the design of the room where you choose to put it but it definitely makes a statement.
Unlike rugs, carpets, paintings, and other antiques that are designed to accentuate the design and style of a room, a coffee table's purpose is actually for its functionality. It can be used as a stand to put things on or a focal point. A coffee table may take up space in your living room or in any room where you choose to put it but it can actually help you maximize space by acting as a storage.
Recommended Reading
Beautiful wooden floor designs for living room
Our Best 27 Coffee Table Choices This 2022
There are a couple of factors to consider when choosing the right coffee table for you such as the  size, color, measurement, material, and functionality. Here are some of the best coffee tables that you can choose from: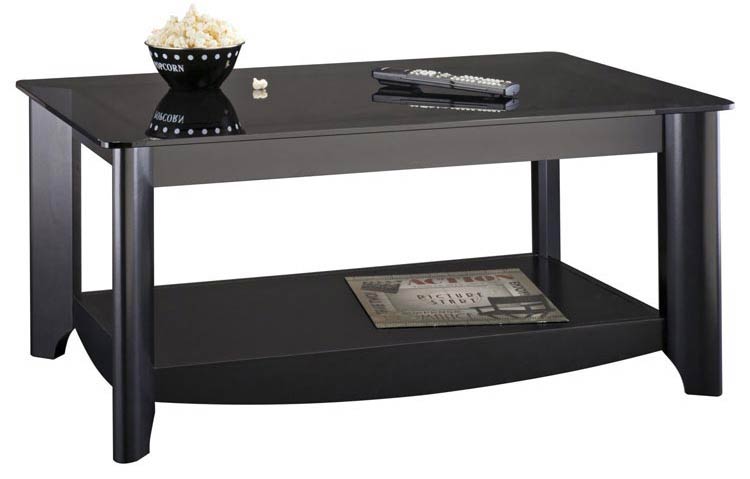 This coffee table in classic black has a sleek and contemporary style that can easily match any room style, furniture, and upholstery. The top is made of durable gray-tinted glass. It is child-proof with its round corners and quarter-turned legs.
The table features a lower shelf that you can turn into extra storage where you can perhaps store CDs, books, magazines, photo albums, etc. It is solidly constructed and versatile that you can put it anywhere you want in your home or office and you can use it for any function. Find it here.
---
This coffee table is made of solid wood and has a contemporary design that can match a living room or any room with a modern style. Its color is black oak which compliments any type of decor and any color of the couch. It is unique in style because of its rotating top that can be used for different functions. Buy it on Amazon.
---
Emerson Rectangular MOD Swivel Coffee Table w/ Glass
You will surely love this modern coffee table that has a unique style. The swivel rotating table top is made of Sonoma oak while the table is made of plywood. It also features a shelf that is made of fiber glass.
---
Enjoy this round coffee table made of mango wood with an iron base which can match any room style and decor. You can use it in any room, in your home or office. It also has a storage space to keep your things organized. Find it here.
---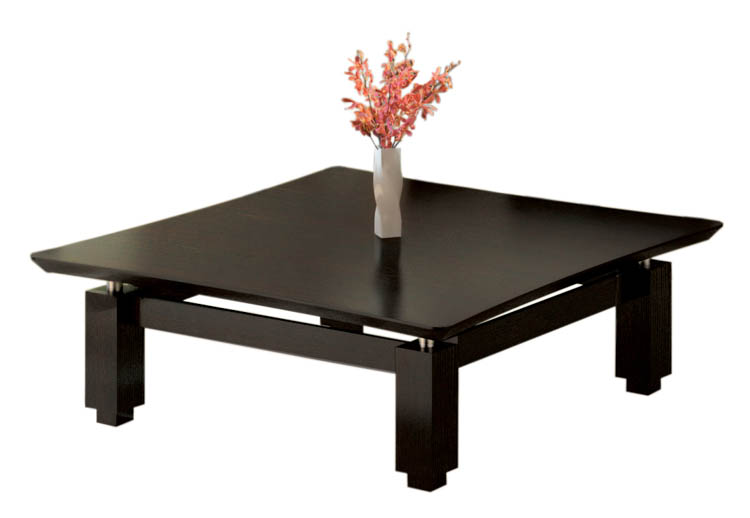 You will surely love this small contemporary coffee table that you can use at home or in your office. This low coffee table will surely add some laid-back feel in your home. It is made of laminate case which you can get in three different colors: textured driftwood, textured mocha, and textured brown sugar. The thick work surface with knife edge profile and chrome stand-offs makes this coffee table sturdy and solid. Find it here.
---
This vintage coffee table has an industrial design and a classic appearance that is perfect for the living room. It has a spacious top and an equally spacious grate shelf made of metal where you can store many things. The table top is wear-resistant and water proof.
This coffee table, which can also be a cocktail table, is made of thick metal frame which makes it durable and which allows it to hold up to 350 lbs. You can also use it as a cocktail table because of its one-of-a-kind shelf where you can put wine bottles, beer cans, liquor, and glasses. Buy it on Amazon.
---
This beautiful console table is perfect for the home and can be used for various functions. It certainly makes a statement with its conduit design. It features a contemporary modern style playing with straight lines and stainless steel tubular effect.
The glass table top highlights the contemporary design of the table and is perfect for displaying tea, snacks, and dessert. Think of taking that Instagram worthy photo of tea or food using this table. This is made of sturdy stainless steel tubes and tempered glass which makes it durable. Buy it on Amazon.
---
This ottoman coffee table has a round shape and a glamorous style that features a tempered glass top and a tufted velvet body. It is very chic and elegant and you can put it in your living room or bedroom. It comes in four colors: beige, blush, cobalt, and smoke. Find it here.
---
When we look at this table, we will think of luxury right away because of its Carrara marble top that is comparable to furniture displays in luxurious hotels. It has a modern style in a traditional body and can be placed anywhere in your home. Buy it on Amazon.
---
This rectangular shaped coffee table is made of a wooden frame and tufted leather ottoman on top. This coffee table is multi-functional that can be used as a table, a seating space, or a foot stool. It can help you maximize space with its spacious storage room and bottom rack that can hold anything. It is espresso brown in color which can match any existing decor. Find it here.
---
Tucson Contemporary Tufted Leather Storage Ottoman Table
This ottoman coffee table can be used as a table or a seating space. It has a hidden slide-out storage drawer where you can keep remote controls, books, and magazines.
It features an upholstered natural linen fabric and a hardwood frame. The neutral color of the fabric allows it to compliment existing decor and be used in the living room, bedroom, or office.
---
Justin 2-Tray-Top Leather Ottoman Coffee Table
You will surely love this square-shaped ottoman coffee table because of its multi-functional feature. You can use it as a table, a seat, or a foot stool plus it has two hidden storage compartments that you can access by flipping over the double lids. It features a white colored ottoman that is upholstered in leather and a darkly-stained wooden frame.
---
This lift-top coffee table is a great invention that everyone will surely love. The cherry finish makes an additional elegant feel. It is multi-functional as it features a lift-top, a hidden storage, and a bottom shelf to keep books, magazines, and newspapers. Buy it on Amazon.
---
I like keeping things simple just like this coffee table that looks so simple and classy despite being made of various materials such as metal, glass, and wood.
The table top and the bottom shelf are both made of thick and durable glass that can carry, books, magazines, CDs, and remote control. The glass on the top and on the bottom are connected with chrome styled stainless steel bars and the whole table is supported by a medium-density fibreboard (MDF). It is perfect in the living room, office, or bedroom. Buy it on Amazon.
---
This vintage looking coffee table compliments any room style or decor and can be used as a coffee table, cocktail table, office table, or end table. The table top and the bottom shelf are made of solid pine wood and the legs are made of steel making it a durable multi-functional table. Buy it on Amazon.
---
A modern and stylish coffee table like this is perfect for the living room or office. It is made of a wooden criss-cross base and a thick glass top with a floating copper ring leaf below it. It has a cappuccino finish. Buy it on Amazon.
---
A coffee table doesn't always have to be rectangular in shape. This table features a round classic design and tapered legs that suits the living room and any decor because of its antique walnut color. It is made of solid wood. The table top has a hidden drawer that you can use as storage together with the bottom shelf that can also serve as a storage. Find it here.
---
A multi-purpose coffee table is a great addition to the pieces of furniture found in the living room. This type of coffee table features style, art, and practicality. This is perfect for entertaining guests where you can have extra seating space especially if you have limited space in your living room.
It will definitely make a statement in your living room because of its style and the various colors of the stools that are upholstered in fabric. The table top frame and the base frame are made out of driftwood to give a vintage look while the table top is made of clear tempered glass. Buy it on Amazon.
---
Combine style and functionality with this amazing coffee table that has a warm oak finish and a functional design. It features a lift-top, a bottom shelf, and a drawer to keep some of your things. If you are looking for a sturdy and long-lasting coffee table, then this is perfect for you. Buy it on Amazon.
---
We love coffee tables that are unique in style and that definitely stand out and make a statement in our home. Aside from being round in shape, this coffee table has diamond and rectangular side style. This all wood coffee table will complete any home interiors for sure. Buy it on Amazon.
---
This one-of-a-kind coffee table has a wooden tray top to secure your things from falling. As you notice, it has a side hanging leather storage that is great placement for your magazines or books. Buy it on Amazon.
---
This coffee table is low in height and is perfect for sitting on the floor. This is perfect for entertaining guests, and for playing card and board games. The table top is made of walnut wood veneer and it has a small open space where you can store magazines, books, and newspapers. Its legs are made of chrome. Buy it on Amazon.
---
If you live in a condominium with a limited space in the living room, then it is great to have a multi-purpose coffee table just like this that comes with 2 stools. This is perfect for spending a day in the living room reading your favorite book while sipping on some coffee or tea.
The table and stools are made with the combination of wood and man-made wood. The ottoman stools are upholstered in faux leather. Its color is espresso which matches any style and decors of the living room. Buy it on Amazon.
---
Have you seen a coffee table that doesn't look like a table at all? This coffee table really has a one-of-a-kind design that would even make you wonder if it is actually a table. It is multi level which allows you to store and organise magazines, remote control, and other small objects so that they are easier to find. It is made of faux concrete melamine that can come in matte white or matte black finish.
This furniture is also featured on our unique coffee tables list so check it out.
---
We can compare this round coffee table with high heels that have a thin strap and highlight the beautiful shape of your feet. It is simple yet exudes an elegant and luxurious feel. It has a gold finish metal frame and the table top is made of glass. Buy it on Amazon.
---
This is a rectangular shaped side table that has a marble print on its table top and its lower shelf and a thick metal frame to support it. This is perfect for minimalists. It has a modern design that can fit modern designed rooms. Buy it on Amazon.
---
This is a long coffee table that has a similar length with a couch. It has a mid-century style featuring a wood like finish with a matte surface. The frame is made of thick black metal which makes it sturdy and durable. Its color and style matches any style of the living room. Buy it on Amazon.
How to select the best coffee table?
If you want more than design, then our guide on choosing the best coffee table for the right price could be useful for you.
Your needs
If you are replacing your old coffee table, write down a list of the things that you don't like in it and what you would want to improve.
Your old coffee table would make it easier for you to understand what design your new coffee table needs to have. If the old table fits your interior perfectly, then there is no need for the new table to drastically differ from it.
If you are buying your first coffee table, then things may be a bit more difficult for you. You would need to take into account several factors, which we will examine below.
Your budget
The "cheap" is relative for everyone. If you want to buy a coffee table for a good price, then you need to know the price range you are comfortable with.
A good price isn't always the same as a cheap price. You may find a good coffee table within your price range that isn't cheap. Instead of focusing only on the price, keep in mind both your budget and needs to get a good, balanced coffee table.
Room
If you want a table for your living room, then you probably should go for one with more or less formal design. A coffee table in a living room usually plays a strictly decorative role, so you could look for fragile tables with glass tops, for example.
In your family room, you would probably want to have something functional rather than decorative. Glass tops usually aren't appropriate for family rooms not only because they are fragile but also because they get covered in finger marks and scratches easily. Besides, glass tops with no frames could have sharp corners, which could pose a risk to your children and pets.
If the coffee table is going to be the centerpiece of the room, you would need to make it stand out. Choose a coffee table with an eye-catching style, size, material, or surface finish.
Shape
If you want a coffee table for a small room, then you should go for a rectangular or oval coffee table.
Round or oval tables will be safer for children since they don't have sharp corners. If you have children, an oval or round table could be the right choice.
Square or round coffee tables are good for a variety of seating configurations, even the larger ones. Such tables could be put in front of sofas, for example.
Also, take into account the design of the sides and the shelf. Patterned sides and shelf may not fit your interior, so make sure to choose carefully. Besides, some shelf patterns may make the shelf impractical, so keep that in mind as well.
Size
The size of the coffee table needs to fit the interior of the room you will be putting it in. You need to measure a couple of things before choosing the size.
Measure the free space you have in your room. Also, measure the space you would prefer to have for a coffee table, taking into account how much you can move your furniture around to free up space. This would be useful if you find a nice table that is bigger than your free space. Make sure to leave room for your legs when sitting down as well.
Measure the height of your furniture. Aligning the coffee table with the height of the furniture will help you avoid bumping and falling. This rule isn't hard, so you could play around. If you will be placing food or drinks on the coffee table, make sure that it is 2 inches lower than the sofa or the chair. Don't get a coffee table that is over 1 inch taller than your sofa.
Color
Determine the existing color scheme in your room. Generally, you should choose a table that doesn't stand too much out of the interior's scheme, though you could still play around.
Material
Take into account your cleaning habits. If you don't tend to clean your home daily, then you should probably avoid tables with easily stainable surfaces like glass or glossy metals. In this case, you should go for a sturdier material like wood.
If you will be putting a lot of heavier items on the table and/or if you have children and pets, consider buying a coffee table with a durable tabletop made from wood or metal. Otherwise, you could go for more delicate materials.
The material and texture of the existing furniture is also important. Just like in case of color, you don't want to get a table that will make your interior look unorganized and chaotic.
If your furnishing has lots of curves, then a round table would be appropriate.
If there is a lot of hard lines and angles in the room, a square or rectangular coffee table would be a better pick.
Functionality
If you will be storing anything on the coffee table, pick one that has a bottom storage shelf. Some coffee tables also come with drawers or storage boxes that would allow you to keep your items away from view.
Some tables feature tops that can be lifted up and forward to make it closer to the sofa or the chair. If you wish to have increased convenience, then such a table would be a nice choice. Beneath the lifting tabletop usually is a boxed-in storage area as well.
Adjustable leg height could also be a useful feature for you, especially if you will be moving the table around a lot. Adjustable legs would allow you to use the table with a wider range of furniture heights.
If you are particularly concerned with the safety of your floors, then you should make sure that the coffee table of your liking has protective caps on its legs.
Some coffee tables also have wheels that make moving them around easier. If a coffee table with wheels is the thing you want, make sure that the wheels can be locked so it doesn't roll around with beverages on it.
---