Do you need a versatile console table to complete your interior? Below, we'll showcase 20+ console tables, touching upon their aesthetic features, as well as what they have to offer in terms of function.
Console Table Purpose and Uses
A console table could be placed just about anywhere in your home to complement your interior. Typically, console tables are placed against walls and may be used:
As a pedestal for decorative items.
As additional storage.
Most often, console tables are used for decorative purposes, although as you'll see from our suggestions, they can be exceptionally practical as well.
23 Best Console Tables to Buy in 2021
The GHQME console table offers an attractive and simplistic look executed in an industrial style. This console table features a harmonic combo of bronze-tone legs and a dark brown MDF tabletop to decorate your interior.
The GHQME industrial console table is not only about aesthetics – it offers ample storage space too with its top and bottom storage shelves.
---
The Crown Mark Draper console table is extremely simple yet is expressive enough to make a statement. The elegant curves along with the espresso finish make this table a fine choice for more classic interiors.
Although the Crown Mark Draper console table is more about form than function, it has some practicality to it as well. It has ample tabletop space, while the two bottom shelves can be used to hold a decorative piece or perhaps your favorite plant.
---
We like the bold roughness of the IRONCK console table. The GHQME console table had a similar vibe, but it softened its design with a touch of elegance via the bronze frame.
IRONCK has employed a contrasting approach, imparting a much rougher vibe to this table. It's very rustic and is a great choice for simpler, less elegant interiors.
What's also remarkable about the IRONCK console table is that you could use it for shoe storage – the mesh bottom shelf is quite fitted for it.
---
If you can't stand MDF in your home, then take a look at this console table from Celinne. The highlight of this console table is its acacia wood build that should deliver greater durability and a more authentic feel.
Although extremely simple, the Celinne console table is fairly practical as well, boasting a pair of drawers with rustic metal handles. As for the design of the table overall, it leans heavily toward classical furniture.
---
With its elegant curves and smooth surfaces, the Makiya console table is a wonderful choice for modern interiors. The silver powder coating on the iron frame looks extremely attractive, while the mango wood speaks quality and luxury.
The Makiya modern console table offers plenty of storage space as well. With a whopping 3 shelves, the Makiya console table is a great choice not only if you care about aesthetics but also want something more practical.
---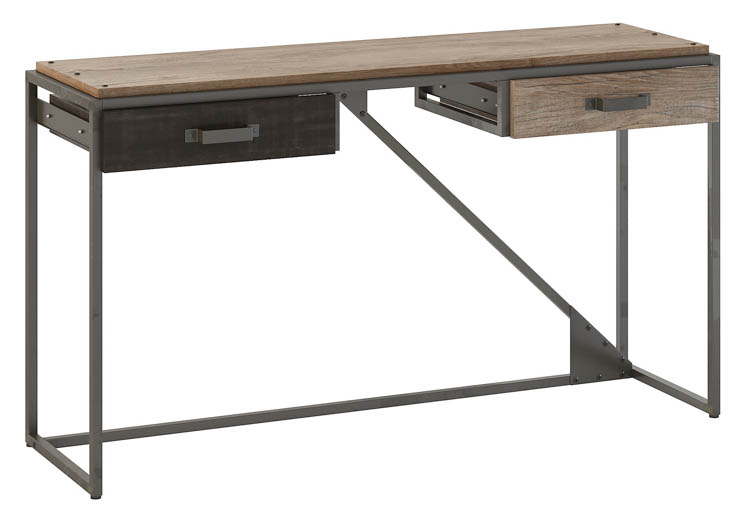 When it comes to industrial furniture, you will struggle to find anything as unique and eye-catching as this console table from Bush. On other console tables, exposed screws and bolts would make for a very ugly spectacle – here, such details complement and enhance the character of this table.
The Bush console table won't fit every interior, but if you happen to have a home styled similarly to it, you will be getting a wonderful console table to improve your interior with.
---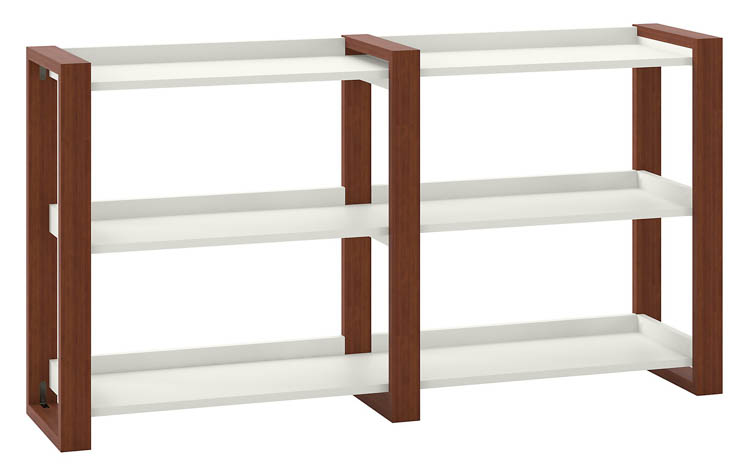 This console table from Bush is drastically different from the previous one. It ditches all industrial elements and instead offers a sleek look and light colors that will fit interiors centered around shades of white.
Instead of drawers, this console table employs shelves for storage as well.
---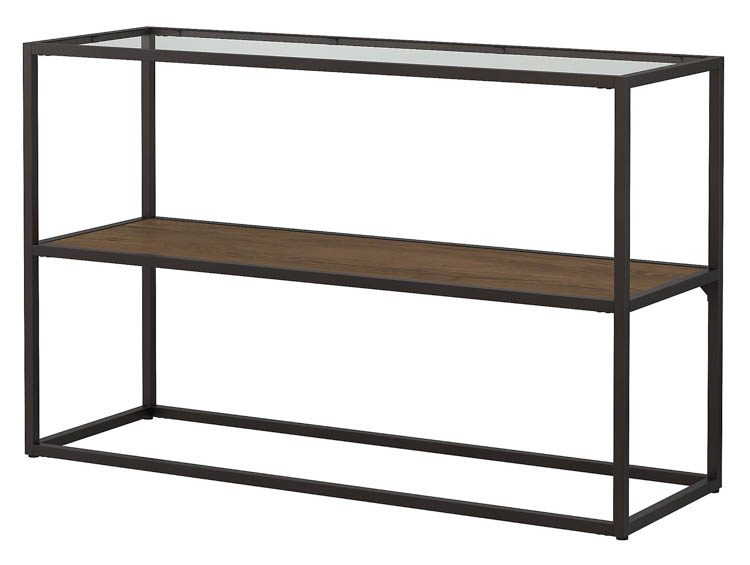 Bush calls the vibe of this console table "industrial modern aesthetic". This phrase perfectly nails what this console table has to offer. The glass top imparts a modern feel to the table, while the metal frame pulls its design more toward the industrial.
If you are brave enough to use the glass tabletop for decorative items or books, then this table provides you with two shelves for storage as well.
---
The Samantha console table from the Safavieh American Homes Collection boasts the feel and grandeur of solid pine wood. This console table is yet another fine option if you can't stand any other wood style than solid.
The grey finish and the restrained curves make the Samantha console table a wonderful addition to vintage interiors as well.
In terms of practicality, this console table offers so far unparalleled storage space thanks to its tabletop, bottom shelf, and two drawers.
---
Braylon advertises this as a "media bookcase", but you may use it as a console table as well – the form-factor of this and other console tables is similar.
The design of the Braylon media bookcase combines industrial and classical details. The base board on this table is quite remarkable too – it adds both visual and physical weight to the table's construction.
Storage space is also a strong suit of the Braylon table – you get 3 shelves to store your items and decorative pieces on.
---
This one's advertised as an accent table, but feel free to use it as a console table too, especially if you don't have much free space. The Noah accent table is compact but has the visual heft to noticeably enhance antique interiors.
Despite its compactness, the Noah table features a solid amount of storage space in its two shelves and drawers as well.
---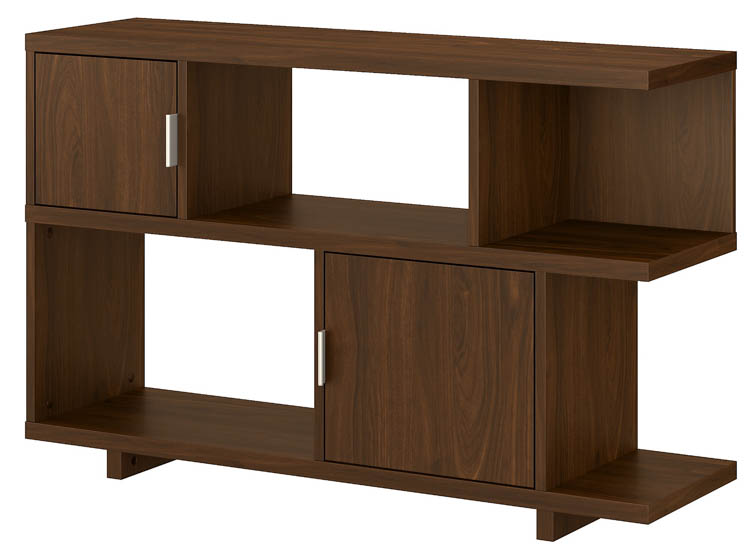 This table from Bush is one of the best console tables on this list when it comes to storage. Not only does this console table have ample shelf and drawer space, but it also has a desktop organizer on top.
With that, this Bush console table is not only capable of complementing your interior but also provides you with a good deal of storage space for keys, books, and decorative items.
---
The Henn&Hart console table is an excellent purchase for modern interiors.
Thanks to its gilded finish, it works especially well with interiors where white is the primary color. You could also pair this console table with dark brown or black interiors, but this combo would work the best if you already have other gilded items in your home.
The metal frame of this console table is complemented with a tempered glass tabletop and shelves too. The glass certainly adds to the elegance of this table, but it also means that you should be careful when handling it.
---
Extremely simple and stylish – these two words perfectly characterize this console table from Londyn. The Londyn console table wonderfully pairs with contemporary interiors, and it is sleek enough to be placed in a modern-style home as well.
We also like the abundance of headroom in the bottom shelf of this table. If you have plenty of plants but no place to put them, then the Londyn console table might be the perfect spot.
---
If you liked the Henn&Hart modern console table but want something in a more industrial style, then this table might be an excellent choice. This console table retains the basic forms of the gilded table while adding a few industrial accents.
To achieve an industrial vibe, this console table abandons the gilded finish and goes for a black one. Additionally, the bottom shelf here is made of fine mesh wire. The tabletop, in the meantime, is again glass.
In the end, this Henn&Hart console table features an interesting and undoubtedly attractive combination of modern and industrial motifs.
---
The Flossie console table combines the features of a cabinet and console table. On the top, you have 3 shelves with plenty of storage space, while the bottom half features two cabinet compartments.
When it comes to style, the Flossie console table is somewhat industrial and rustic. Thanks to its attractive acacia wood build, it's a great choice for interiors rich in wooden details and accents too.
---
This console table is unique in that it is made of 12mm tempered glass. It's completely transparent and is especially great for modern interiors. Though arguably, you could use it in any home.
When it comes to function, this console table is perhaps the least practical on this list. The tempered glass is thick and thus should be quite sturdy, but we wouldn't put much weight onto it.
With that, this console table would work the best if you are just looking for an accent piece for your home.
---
This console table from Breklyn is quite bizarre. The base of this console table is made of polished iron, which imparts a more modern vibe to the table. At the same time, the tabletop is made of chipped, weathered wood, which adds prominent rustic tones to the table.
With that, the Breklyn table fuses a very contrasting combination of styles.
No doubt, this console table is remarkable in its design. However, we think that it will not fit many interiors. Nonetheless, we decided to showcase it on this top because some of our readers may fall in love with it at first sight.
---
The OSP Home Furnishings Sierra foyer table features a traditional wooden build in a contemporary style. This foyer table is a fine addition to wood-rich interiors – especially if you have other mission-style furniture.
The OSP foyer table features a combination of solid and engineered wood – likely to lower the price while still offering the feel of authentic wood. And although it's intended as a contemporary piece of furniture, it is neutral enough to work with any home style.
---
The VASAGLE sofa table features an industrial style composed of a black metal frame with a mesh shelf and a wooden top with a unique charred feel to it. It's as if the frame has been forged with the wood already mounted – though this is impossible, needless to say.
The white feet somewhat break the style of this table, but you may paint or easily replace them, so we don't consider that to be a huge downside.
---
The Gridiron table offers a unique frame combining stainless steel with wood inlays. Like the Breklyn console table, this table combines quite contrasting details, though the difference in style between them isn't as dramatic.
The Modway Gridiron console table probably won't be the right choice for many interiors, but its style will certainly be endlessly charming to some of you.
---
The VASAGLE industrial sofa table's design makes a return here, but in a different form factor. This console table, despite its undoubtedly industrial style, is sleeker than the sofa table and therefore should fit a wider range of interiors.
In our opinion, this table's design is neutral enough to work in any home, but it would be ideal if your interior had the same kind of wooden elements as this table.
---
And finally, we have this vintage/industrial console table. Featuring MDF, wood veneer, and metal, this console table is a wonderful addition to more rustic interiors. It's also a great choice if you want a more restrained industrial console table.
---
Final Thoughts
When choosing a console table, you should consider both aesthetics and practicality. Though needless to say, for some people, form is going to matter more than function.
But no matter what you choose in the end, make sure that it fits the vibe of your interior!
---