Efficient, convenient, affordable and powerful. These are some of the qualities of the best handheld steam cleaners on our review for this article. There are a lot of aspects that these handy tools can help you with so let's go through them one by one.
Best Handheld Steam Cleaners Comparison
Uses and Applications of Handheld Steam Cleaners
Handheld steam cleaners are versatile tools that you can use every day in your cleaning sessions.
They are best used for ceiling fans, washing your patio furniture, sanitizing mattresses, cleaning the exteriors of your appliances, sterilizing countertops, and cleaning metal wire pet cages just to name a few.
They are also known to be utilized for deep cleaning ceramic or porcelain grout tiles. They can also be used for cleaning glass shower doors, sinks and plumbing fixtures, cleaning the drapes, hulls of boats, removing algae and mold, and even cleaning your gardening tools.
It's versatile but remember not to use it on unsealed, waxed polished, or freshly painted surfaces. Also, it's not advisable to use it on delicate fabrics nor your musical instruments.  It's also not recommended for antiques or finished wood.
It's also not recommended to steam clean laminated wood or nylon mesh window screens.
Learning when, where, or how to use this tool will greatly benefit you!
7 Best Handheld Steam Cleaner Reviews
First up on our best handheld steam cleaner review is the PurSteam's Handheld Pressurized Steam Cleaner. This product is proven fast and effective. If you're looking for an all-natural way to clean around your premises then this is the right tool for you.
This steam cleaner will eliminate grease, mold, stains, grimes, and bed bugs safely and easily. The unit is lightweight ad easy to handle. It's got a 9.8-foot cord sop it will be convenient to use around the house.
It's the perfect all-around unit for safe cleaning. Good for your ceramic tiles, granite, laminated tiles, waterproof wood flooring, cotton and wool carpets, and even on washable wallpapers.
It's fast heating, just give it 3 to 4 minutes to warm up and it should be good to go. Whether you need quick and efficient cleaning in your living room, bedroom, bathroom, or kitchen, this should be your go-to device.
Advantages
Great for all-around cleaning
Safe and easy to use and maintain
Lightweight and portable
Popular online with good reviews and a bestseller
Good quality product
Drawbacks
Not so good safety cap design
Bottom Line

This handheld steam cleaner is indeed perfect for everywhere clean and versatile in terms of surfaces it can work. This even works well on the interior of your cars. So if you're a parent who constantly has to clean after their kids this is for you.
If you find yourself struggling to clean every day around the house then get this steam cleaner, it will do you a lot of good.
---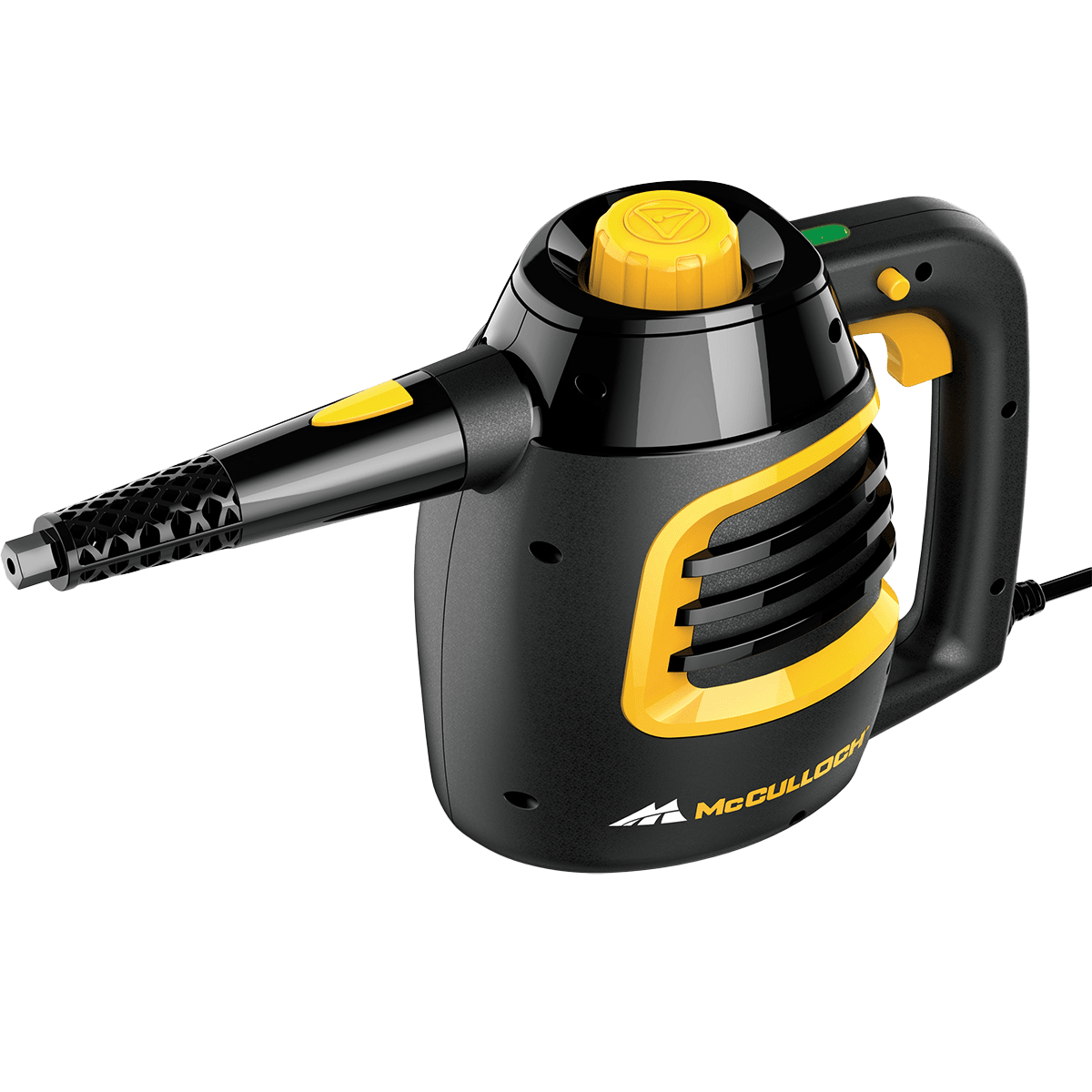 From a good all-around handheld steam cleaner let's jump into a tool that's designed to tackle the dirtiest possible jobs there is, introducing the McCulloch MC1230 Handheld Steam Cleaner.
This steam canister is versatile and is great for both indoor and outdoor use. It heats up in only 3 minutes and will give you 10 minutes of steam. It is very easy and simple to use and the 11 attachments that come with the kit make it even valuable.
Clean without using chemicals and clean thoroughly and deeply. This is perfect for patio furniture, grills, boats, equipment, tools, appliances, household fixtures, tiles, and grouts.
Don't ever strain your hands and enjoy a powerful continuous stream with the lockable steam trigger. The canister can also handle 6 ounces of water in a direct water fill tank.
It comes with a durable 15-foot cord which makes it portable and you'll get a powerful steam with the jet nozzle.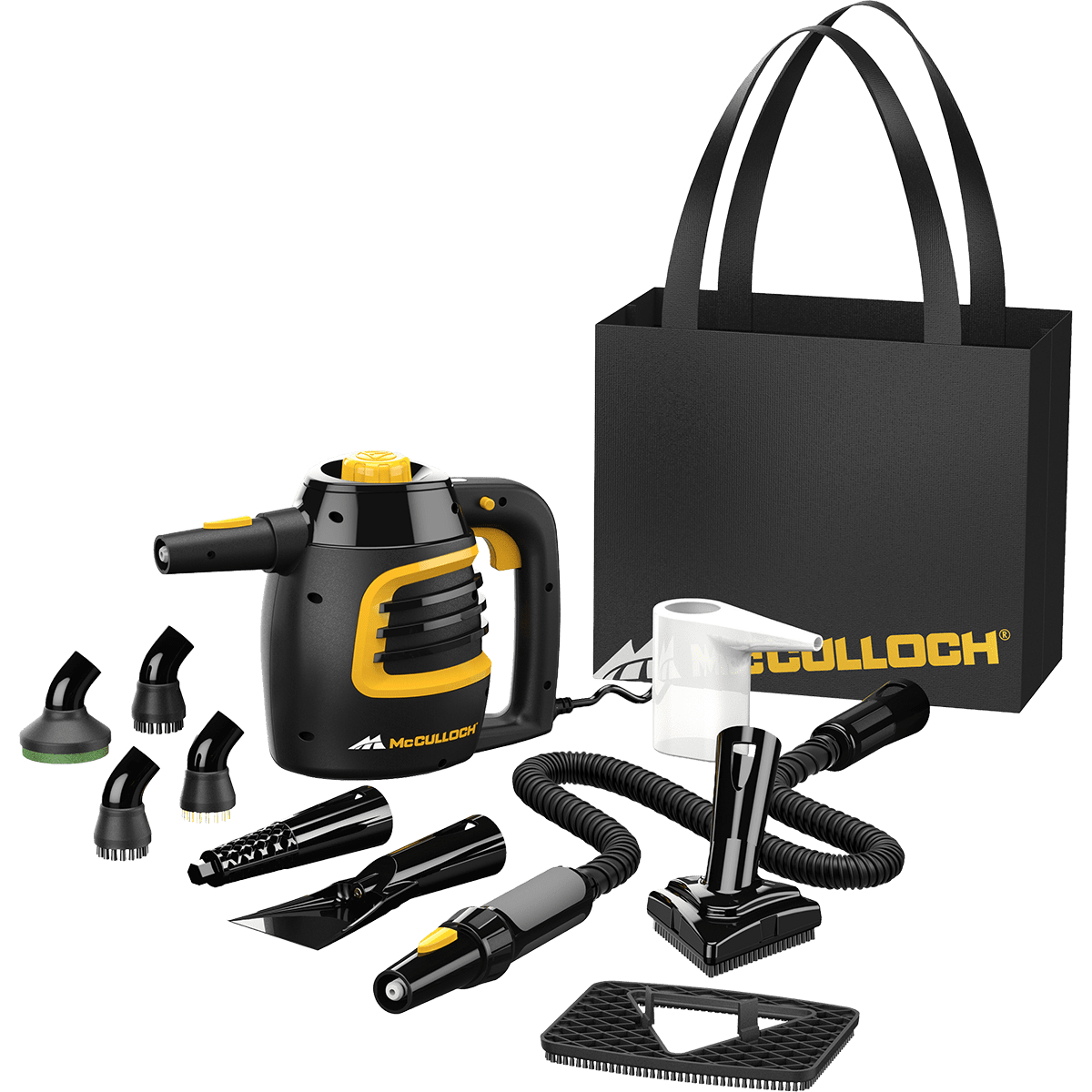 Advantages
Lockable steam trigger
Portable and easy to use
Powerful deep cleaning capacity
Quick heating
Tough and durable design
Drawbacks
Will not be enough for larger areas
Bottom Line

If you always find yourself cleaning tough or aged stains then this unit is for you. This is one of the most powerful handheld steam cleaners out there. This is also perfect if you own a boat, and will clean thoroughly with its several attachments, you'd never ask for more from a handy device.
---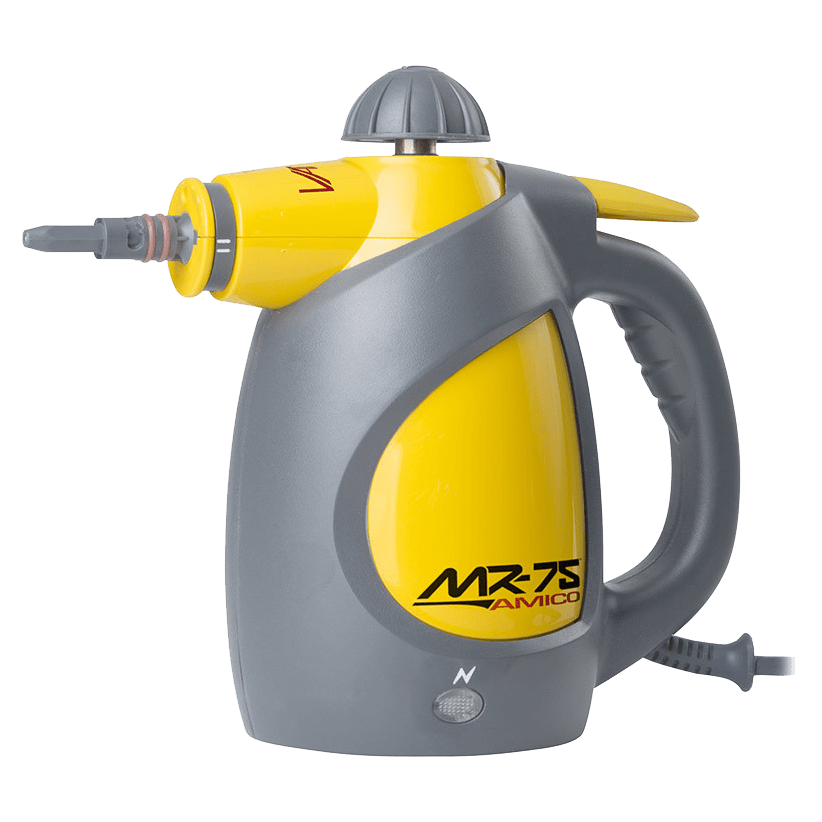 Let's welcome a little bit more firepower or should we say steam power with the Vapamore MR-75 Amico Handheld Steam Cleaner. This handheld steam cleaner operates at 210 degrees F a tad more than the previous two.
Clean and sanitize surfaces as this one is better equipped with killing germs. You're confident that you don't just clean but clean deeply. Say goodbye to dust mites, mildew, and mold and anything that causes illnesses around your home.
The heat power on this steam cleaner also is powerful enough to remove hard or stuck on, built-up grease, plus grime and stains. Due to its germ-killing capability, it should be perfect for hospitals, kitchen, restaurants, pet shops, and hotels.
It comes with like 15 plus attachments that make it super versatile and ideal when you clean hard to reach areas all the time. It weighs only 3.5 pounds so no need to worry about straining your arm.
Advantages
Lightweight and portable
Easy to use and maintain
Very powerful and deeply cleans
Versatile
So many attachments to make your life easier
Drawbacks
Bottom Line

This is perfect for your house but it is ideal if you run a small business. Maybe a clinic, pet shop, a restaurant, an inn, or a spa. It will provide deep and thoroughly clean and kill germs along the way. You'll have more confidence each time to serve clients plus you get to clean fast.
---
Convenience and affordability that's what the BISSELL 39N7A/39N71 Steam Shot Deluxe Hard-Surface Cleaner offers. Clean fast and quickly on hard surfaces with this handheld steam cleaner.
It's got powerful and high-pressure steam with an easy to press trigger and is completely chemical-free. It's got 1000 watts of power and that is what's going to do the hard work on your hard surfaces. Plus it's got a long 20-foot power cord which makes it super portable.
It's got 6.6 ounces of water capacity which will allow you to clean thoroughly in one session. Give it 30 seconds to warm and you should be good to go. It comes with a lot of convenient accessories too which makes it ideal for hard to reach areas.
Accessories include a nozzle, extension hose, grout brush, flat scraping tool, fabric steamer, angle concentrator, window squeegee, and a detail brush.
Advantages
Heavy-duty cleaning
Quick heat-up time
Decent water capacity
Convenient accessories
Extremely portable
Drawbacks
May not be very durable especially the accessories
Bottom Line

This is another handheld steam cleaner that's good for all-around cleaning. This one though packs a lot of punch and will take on hard surfaces. Your only issue with this is that its construction quality is only as good as its price tag.
---
Next up on our best handheld steam cleaner review is the Reliable Pronto 100CH Portable Steam Cleaner. Clean and disinfect with this steam cleaner together with its wide array of attachments.
It comes with a steam gun which makes controlling it easier for steady cleaning. The nylon and brass brushes make it suitable for cleaning grills and anything brushes with soft materials cannot do.
Put the squeegee in place and clean your windows. But perhaps what this handheld steam cleaner is more known for is its ability to clean fabric.
Use the powerful fabric cleaner should you need a quick removal of wrinkles and with its 19.5-foot power cord you can also clean your drapes rather thoroughly.
This unit is equipped with the brand's comfort safety design for you to work with fewer worries and strain on your body.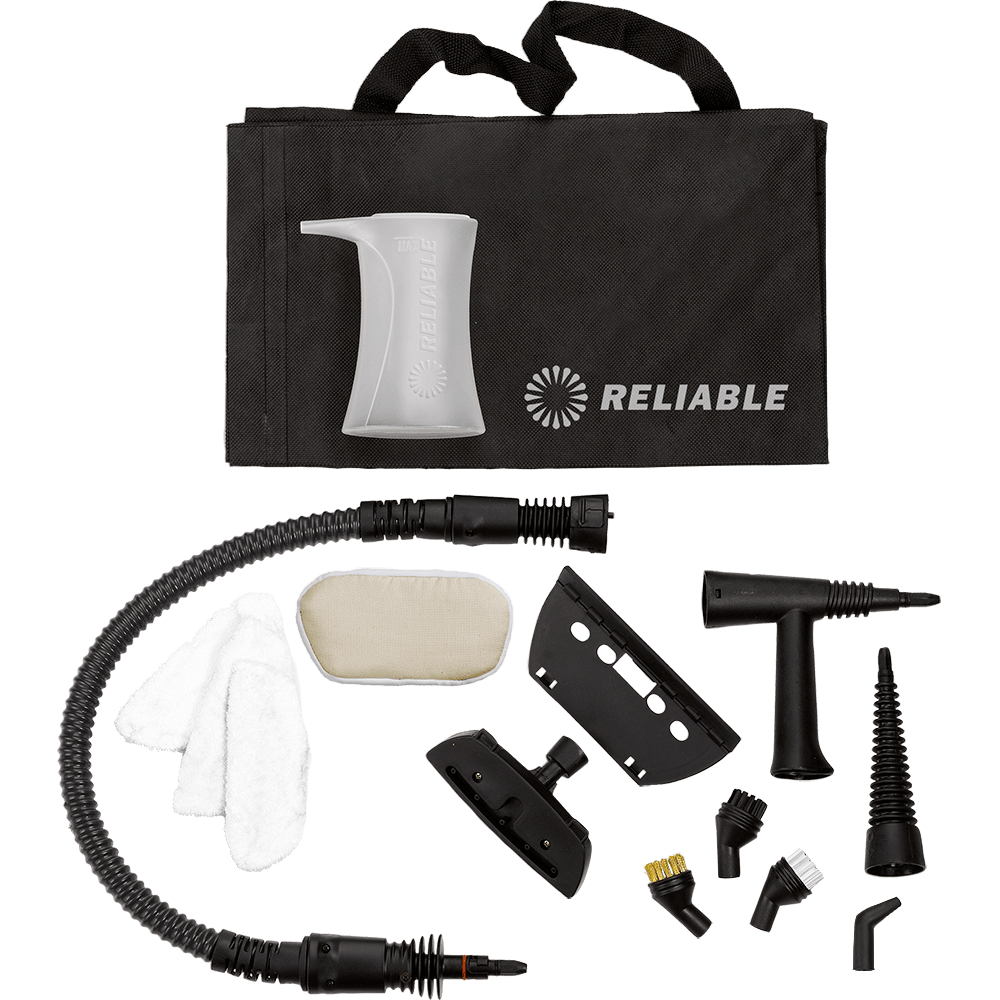 Advantages
Easy and comfortable to use
Perfect for fabrics
Controllable stream
Long power cord
Good accessories
Drawbacks
Steam time not as long as advertised
Hefty price tag
Bottom Line

As mentioned, this is one perfect handheld steam cleaner for drapes and fabrics. So if you find yourself having to clean these types of material all the time, then this is for you.
---
A multipurpose domestic cleaner, that's the perfect description for the KoolaMo Handheld Pressurized Steam Cleaner. If you look at the features of this handheld steam cleaner then you won't believe it or find it hard to reconcile with its price.
Let's talk about its versatility. It's great for sinks, countertops, appliances, your floor, car seats, mattresses, fabrics, and so much more. It comes with a 9-piece accessory that facilitates its functions.
It's lightweight, convenient to use, and comes with a 9 feet power cord. Asking how powerful it is? Well, it packs a lot of punch for sure with 1050 watts of operating power. That's not all, it can handle a whopping 12 ounces of water.
It can operate for a good 10 minutes. Last but not least, it comes with a child lock safety feature and cover.
Advantages
Great value for money
Very versatile and powerful cleaner
Large water capacity
Safe for everyone to use
Wide choices for accessories
Rave review online
Drawbacks
Don't expect some of its parts to last very long
Bottom Line

This product has proven that the price ain't always proportional to quality. If you're on a budget and looking for a quick and efficient tool to assist you in everyday cleaning, then this is what you've been looking for.
---
Last but not least on our best handheld steam cleaner review is the innovative Hoover TwinTank Handheld Steam Cleaner. The twin tank design enables you to not only clean using steam but also with Hoover's signature formula.
This is indeed a great all-around cleaner as it's perfect for garments, non-porous surfaces, or any above the floor cleaning task. That's all made possible by all 10 of its convenient accessories.
The bread and butter of the device is its secret formula which boasts to kill 99.9% of Salmonella. It's portable it's easy to use and cleans with power. No area will be left unclean.
Advantages
Cleans really well
Easy to use and extremely portable
Great accessories
High-quality build
Decent water capacity
Drawbacks
Hefty price tag
Has mediocre reviews online
Bottom Line

If you're looking to clean large areas then this is the right fit for you. The steam on this device lasts long and it also has decent tank capacity. It's got superb attachments which makes it an ideal all-around steam cleaner. It is also ideal for businesses.
---
How to Choose the Best Handheld Steam Cleaner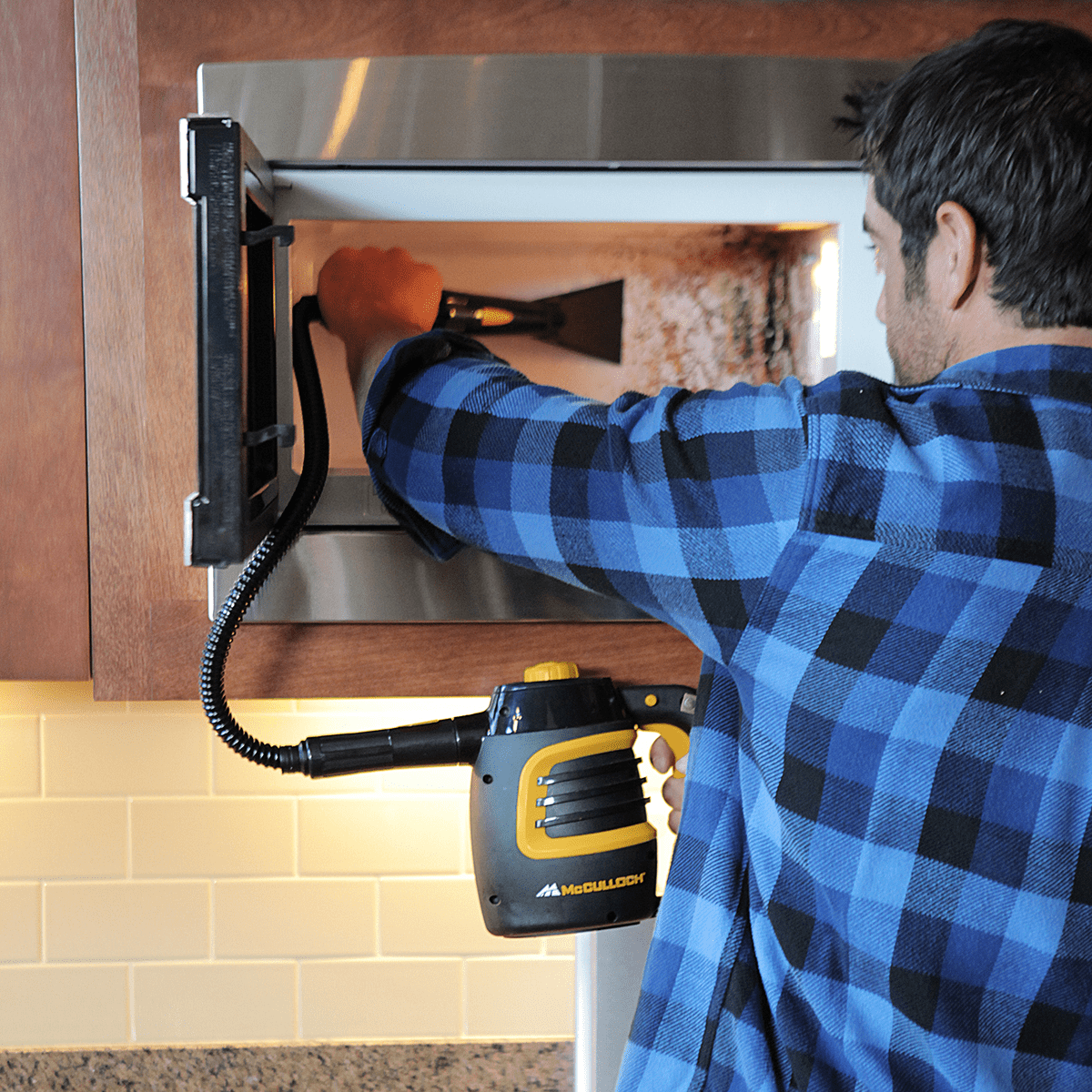 Here are some important things to consider when shopping around for your next handheld steam cleaner.
Capacity, Purpose and Power
The first thing you got to consider when purchasing a handheld steam cleaner is water tank capacity. Naturally, each product would differ on the amount of water it can carry so there are two things to think about to know the capacity you'd need.
That's going to be the purpose of your handheld steam cleaner and the area that you want it to cover in one go. As you already know, handheld steam cleaners are very versatile tools.
So are you going to use it for eliminating tough stains, general cleaning tasks, or use it especially for floors or above the floor cleaning? At this stage, you get to determine what type of steam cleaner you're going to need (maybe you don't need a handheld type or it's not the right fit).
Due to the cooldown time needed by these tools before you can use them again, water capacity will determine how efficient you can be at your work. Are you going to finish all your tasks in one go or you'd have to refill to do so?
Power refers to the maximum wattage these devices operate on. It would also determine the strength of your steam cleaner. Thus, this should also determine how efficient your cleaning session would be.
Are you going to use it at home? Or are you going to bring it on trips? These are essential questions to ask yourself when looking to buy handheld steam cleaners.
Portability, Ease of Use and Maintenance
Given that these are handheld devices we are talking about when it's already a given that they should be portable. You're going to be moving around with them a lot with all the cleaning so consider its weight and the length of the cord.
Lightweight and compact handheld steam cleaners would be ideal for longer usage as the weight won't take a toll on you that much but naturally, these would have lesser water capacity. Consider the size of your cleaning area or house.
There are handheld steam cleaners that come with 20 feet cords, and others with only about 9 feet. Ease of use and maintenance refers to how easily you can work on the detachable parts of your handheld steam cleaner and set it up for use or for cleaning it.
Especially for frequent usage, you're going to have to assemble and disassemble it a few times.
Heating Up
In this aspect, we are referring to a handheld steam cleaner's heating up time and heat regulation capacity. We are surely not talking about gallons and gallons of water so it should be safe to say that a good steam cleaner should be able to heat-up its content in 5 minutes.
That should be 30 seconds to 300 seconds max. Take note that water quality and consistency would be a factor in this too.
Heat regulation would refer to how your steam cleaner or the content inside can hold on to the heat. Not all models can keep it hot especially for long periods so take note of this capacity.
Thermo-sensitive surfaces may need a heat regulation module. It would also be better if you can adjust the heat based on the need, i.e. the sturdiness and age of the stain you will be working on.
Accessories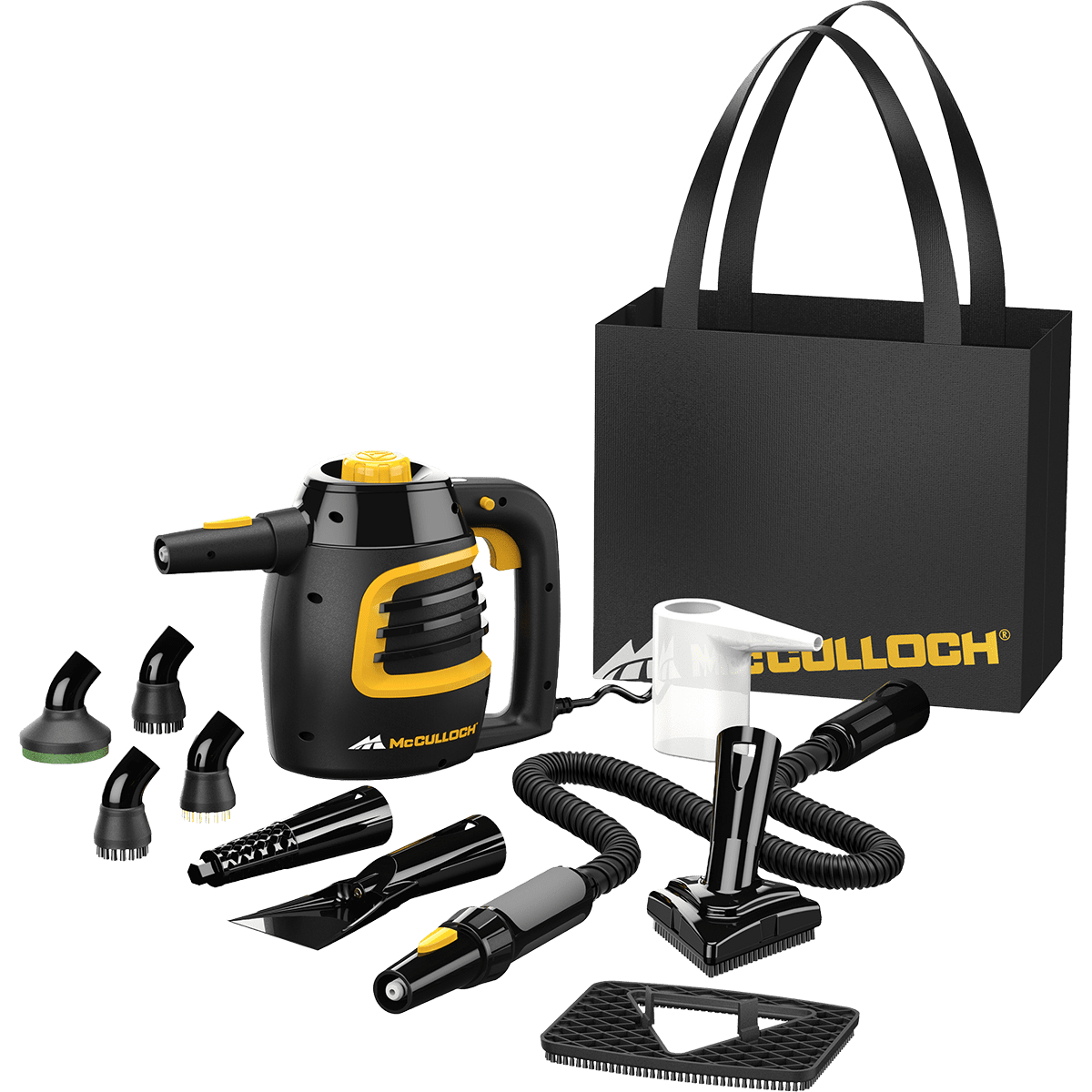 As with all cleaning tools, accessories or attachments are extremely important. You will need them to clean thoroughly especially in challenging areas or hard to reach places. That also applies to your handheld steam cleaners.
Always be wary about the attachments that come with your kit. These attachments would be useful in deep cleaning and detailed working.
You need a unit with brushes, window squeegee, ironing cloth or brush, and maybe additional hoses and gears. Some handheld steam cleaners also come with different nozzles for different purposes.
Grout brush should be for deep cleaning your grout lines. Different brushes should work well on grills and different nozzles can be required for detailed work. Pair these up with the capacity of your handheld steam cleaner then that would determine its efficiency.
Durability, Price, and Brand
Lastly, you should also consider a handheld steam cleaner that is robust and durable. You might want to think about how often you're going to use it. Think about your cleaning needs, dynamics, and habits. A lot of cheap plastic parts get broken prematurely.
Most handheld steam cleaners are meant for domestic use and ones that are meant for heavy-duty use are usually a lot bulkier, heavier, and of course sturdier. So please do take of this.
Not only should the main unit be durable but also its attachments. Most top brands are built with quality but not all. A tool's price tag won't necessarily translate to high-quality products that's why references such as this article, online feedbacks, or user feedbacks are necessary.
If you have a trusted brand then go with your gut and experience and if you have the right budget then go ahead and purchase from them.
Benefits of Using Handheld Steam Cleaners
So why use handheld steam cleaners? Here are some of its benefits.
They are good for your health
Handheld steam cleaners can be a substitute for chemicals that you utilize when cleaning, especially when you're cleaning stubborn stains and areas.
Handheld steam cleaners are child and pet-friendly tools. Also, these devices may be suitable for those who have asthma or allergies. Not only that it won't trigger attacks but at the same time utilizing handheld steam cleaners may help in eliminating allergens in the surroundings.
They are proven to help get rid of bed bugs as well as dust mites. Without using any chemicals then you are also helping the environment.
Cost-Effective
They cost less to purchase, you don't use any other chemicals, and probably won't use a lot of other tools because of their efficiency so in the long run, and you get to save some money. Their compact design also allows you to save space for storage.
Convenient and Efficient
Handheld steam cleaners are ideal for small tasks. We are talking about small areas that are sometimes not within reach for your vacuum cleaners. Attachments also make them very efficient tools not mentioning versatile.
These are the things you will be able to take advantage of if you decide to go with handheld steam cleaners.
Summary
By now, you probably know the value of a good quality handheld steam cleaner. We discussed what they generally used for and how they would be beneficial to you day in and day out.
Once again, if you know how to take advantage of these tools then your lives would be easier. You also got the chance to read our reviews and research about some of the best handheld steam cleaners available in the market today.
Any of them, no matter which one you'll choose would be greatly beneficial for you, you can't go wrong. Also, we hope our buyer's guide was detailed and insightful enough to help you choose well on your next purchase.
Stay clean and stay safe!
---