Furniture can be quite expensive, and if you are on a tight budget, you may have trouble finding the right furniture set to enhance your living room with. Well, if you are at a tight budget, then we have a few cheap living room furniture sets to offer (you can buy them for under $500)!
Best Cheap Living Room Sets Under $500
At a not too high price, this 3-piece living room set by Jaxx will likely be a great choice for contemporary rooms.
The eye-catcher in this set is the clean lines and rounded corners that impart a sleeker vibe to the included pieces, the two chairs and a loveseat. What some people may also like about this set is the environmentally-friendly build with rubberwood legs.
---
Dangerously close to our budget limit of $500, the Maureen Mid Century Modern Fabric Sofa & Love Seat seating set arguably is more practical than the Jaxx set. The fabric sofa and the single loveseat are no less sleek and elegant, but they also offer increased comfort thanks to somewhat taller backs and generous padding.
If you care about practicality a little more than looks, then this may be the living room set to go for.
---
At a noticeably cheaper price, the Honbay convertible sectional sofa couch is noticeably less flexible. The Honbay set comes with a regular sofa plus an ottoman with matching height. You have two options for arranging the included pieces – sofa & ottoman or an L-shaped sofa.
---
If you are looking for a couple of sleek sofas for your living room, then the Poundex Bobkona Spencer set might be the right option for you. Right at the limit of our $500 budget, this sofa set includes a sofa, a loveseat, and four accent pillows as a nice bonus.
This set can't really boast modularity, but if you have room for two sofas, then this set will most likely be more comfortable for you.
---
At first glance, this two-piece armchair set may seem fairly uninteresting. However, the included furniture isn't merely armchairs – these are actually recliners with a tilting back and an extending footrest. Boasting extra-padded cushion for increased comfort, these recliners may be a brilliant piece to rest in after a long and tough day.
---
Very minimalistic and inexpensive, the Natalia traditional wingback chair 2-set is a great option if you are on a limited budget and/or don't have too much space to spare in the living room.
This set comes with two vintage-looking wingback chairs that will likely be a great addition to a thematically-matching interior. What's particularly great about this set is that it requires little to no assembly, partly since you are getting just two chairs and nothing else.
---
This fairly extravagant tufted set is likely to be a suitable addition for bright-toned and more classical interiors. The included tufted chair and ottoman boast a plentitude of details and handcrafted touch delivered via the individually-placed nailheads.
The Atticus chair & ottoman set is arguably more about aesthetics than comfort, but the included pieces are sized and padded well enough to deliver a solid level of comfort. All this for not so much money, mind you!
---
This sofa & loveseat set is a lot like the Poundex Bobkona Spencer set overviewed a little earlier – both sets come with a sofa, a loveseat, and four accent pillows for increased comfort. With that said, the Sonya set is going to be a more fitting option for more contemporary interiors where elegant shapes and touches are central.
---
The Yaheetech living room set might be a good option for you if you are looking for a compact table set. Aside from space-efficiency, this set boasts a beautiful rough finish that can work very well with rustic interiors.
This set includes two small side tables that may actually be stacked on top of each other. Aside from these two, you are getting a fairly traditional coffee table with ample tabletop room and a wired bottom shelf.
---
The Poundex PDEX sofa set has plenty of visual similarities with the Bobkona Spencer set overviewed a little earlier. In fact, the included furniture is similar in the build as well – both sets come with foam-filled seats and inner springs for support and comfort.
With that said, this set has a greater variety in colors, being available in charcoal, blue, and beige. Other than that, the PDEX sofa set should be able to work with any interior just like the Spencer set.
---
This 3-piece sofa set by Harper & Bright is a nice option if you need extended seating space and have the room for it.
This 3-piece sofa set is designed in an L shape that can be arranged to the right or left. On the back of the cushions, you also have a pair of cupholders.
Aside from the L-shaped sofa set, you are getting an ottoman with some storage space inside. The ottoman's height matches the height of the sofas, so you could use it to extend the seating space further.
---
Including a large ottoman bench and two smaller footstool ottomans, the First Hill 3-piece is a nice option if you are looking for a place to rest your feet on.
But the practicality of this set lies not only in the mere fact that you are getting 3 convenient ottomans – each of the included ottomans has ample storage space inside! The box tops, in fact, also have a child-safe hinge that is designed not to slam shut.
---
Even though this set is marketed as an outdoor set, it's a great option for indoor use as well, especially if your living room is made in a more contemporary style.
Aside from good looks, the cushions included in this set are water-resistant, so spills shouldn't be a problem for them. Water resistance also means that this set should withstand outdoor moisture, but probably not rain or snow.
---
The Scilla Boho 3-piece chat set boasts a retro vibe delivered by the strutted rubber legs, gorgeous piping around the edges, and the generally minimalistic style of the included accent chairs and settee. Aside from a mid-century personality, the Scilla Boho set offers generous cushioning for increased seating comfort.
---
Featuring a remarkable combination of rattan and metal, this set promises to be an organic addition to modern interiors. The minimalistic build of the included chairs and side table is not only beautiful but also durable. The water-resistant cushions will make cleaning spills a breeze, while the tempered glass tabletop will likely serve you for the years to come.
---
Who said that a living room set must be all about sitting?
The Aimee Mid-Century 3-Piece includes a convenient TV stand and two bookshelves with ample storage room. Aside from providing you with some practical storage space, the bookshelves allow you to add your personal touch to the room by showcasing your favorite books, films, or decorations.
---
Although the Beata Mid-Century entertainment set includes just two pieces of furniture, it's no less convenient than the Aimee 3-piece entertainment set. Most importantly, you are getting a roomier and more open TV stand that will provide you with more storage space and will be able to take larger TVs.
The bookshelf is around 13 inches shorter than the bookshelves of the Aimee set, but it can still work as a great addition to your room both style- and storage-wise.
---
A loveseat and a chaise sectional lounge combined! The loveseat is actually a deep seat sofa at 26.5 inches. If separated, four people can actually sit on this furniture. Quality and design – you get it.
---
Noticeably less expensive than the Beata set, the DHP Haven section sofa offers space for just three people, not to mention that it doesn't come with an ottoman. With that said, what the DHP Haven sofa does have is a multi-position backrest that can be reclined to lounging or sleeping positions.
We also like the sleek design of the DHP sectional sofa – the faux leather certainly reminds you that this is a cheaper sofa, but it does impart an elegant flair that's attractive with its simplicity.
---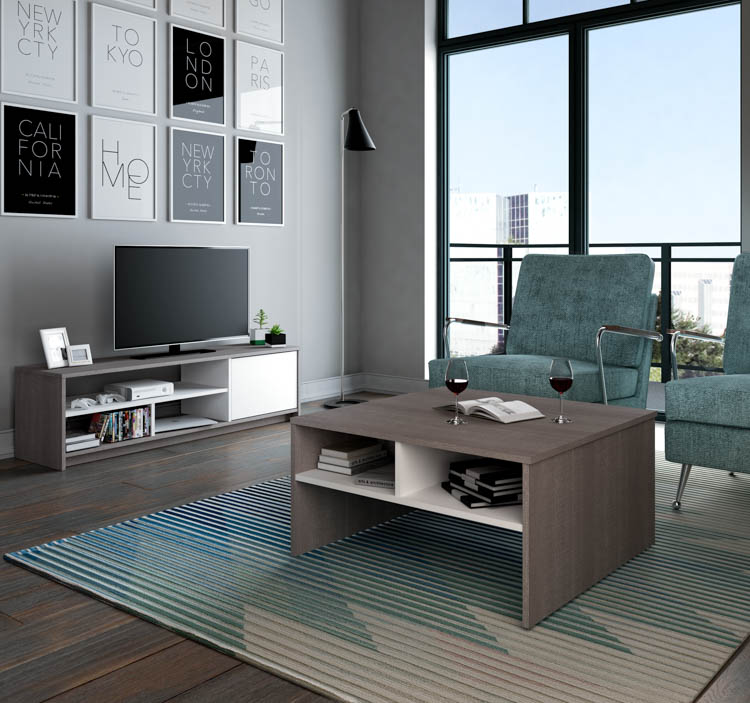 This living room set by Bestar seems like a good way to make your entertainment area a little bit more space-efficient. Not only that, but its combination of dark gray and white colors is quite the eye-catcher.
The included coffee table probably isn't for space-limited living rooms, but it has plenty of storage space delivered via the large tabletop and four open compartments. The TV stand is no less capacious, offering one covered and one open storage compartment, as well as two grommets for wire management.
---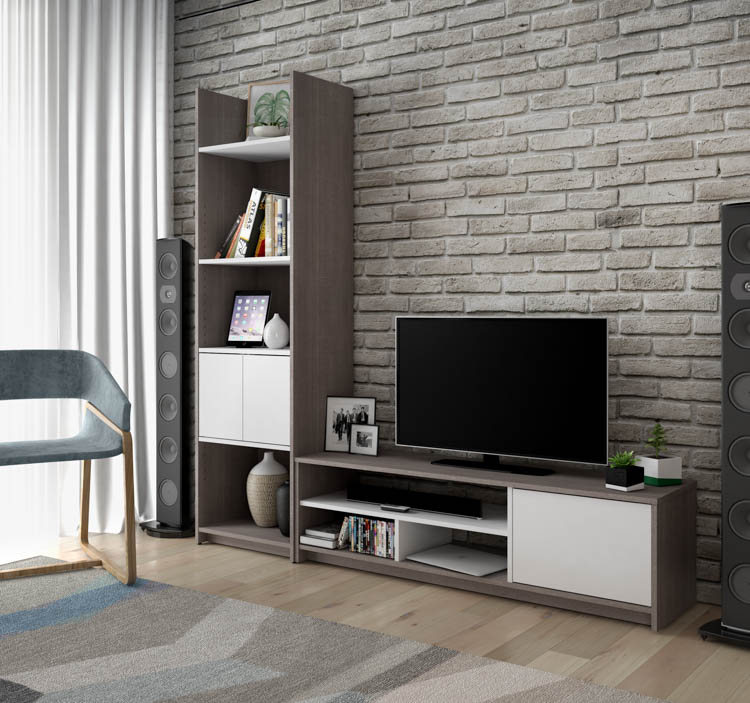 This set comes with the exact same TV stand that is included in the coffee table & TV stand set, but you are getting a bookshelf instead of the coffee table. The bookshelf boasts ample storage space thanks to its two fixed and three adjustable shelves.
What we also like about this set is that it retains the beautiful dark gray & white color scheme of the previous Bestar set.
---
What we absolutely love about the three included tables in this set is their handsome built featuring wood, veneers, and metal accents finished in aged bronze that impart what the manufacturer calls a "rustic industrial design" to this set.
These tables won't work with all interiors, but in the right room, they could make quite a difference in how your home feels.
---
The Furniture of America's Francia table set features a more classic rustic design that is going to work with many more interiors than the industrial design of the previous table set. Not only that, but the tables of the Francia set have one drawer each for some storage area away from the eyes.
This furniture set may be an especially good option for those who have very limited space.
The 3-piece set allows you to arrange the included pieces in whatever way you like. Among the setups that you make with this set an L-shaped sofa, a guest bed, or two sofas with an ottoman/coffee table in between.
One of the key features of this set that allows for great modularity is the adjustable back angle of the included seats. The 2-person futon also features cupholders and armrests for increased space efficiency and comfort.
---