The humble bar stool has come a long way since it was first used to seat more people at commercial bars to help on cutting costs. Now, the bar stool is used not just in bars, but also as seating for a standing desk, as a dining chair or even as a statement piece!
Thanks to their growing popularity, there are thousands of different bar stool designs available in the market today. However, if you are looking for something different, then here are 51 unique bar stools that really add zing to your space!
Chrome Drafting Stool with Tractor Seat
This contemporary draft stool by Flash Furniture is durable, with adjustable height and has floor glides that make it easy to move around. The molded tractor seat makes this bar stool a comfortable, stylish option for you!
And since these bar stools come in vibrant colors, you can really add that pop to your room! This contemporary design will fit into any modern home that needs a little bit of brightness and style.
---
Big Ben Swivel Bar Stool
This unique bar stool by Hillsdale Furniture adds a touch of elegance to a room. Made from pewter-finished metal, this stool has a 360° swivel seat with a back that is designed to look like the Big Ben clock face.
This chair also has an adjustable height function, so people of all sizes can sit on it comfortably.
---
Modern Upholstered 26″ Gray Bar Stool with Gold Legs
With minimal yet unique design, this bar stool sure adds elegant look in your home. It not only look sleek and stylish, but are also truly comfortable, sturdy and durable.
---
OFM Wood and Vinyl Swivel Bar Stool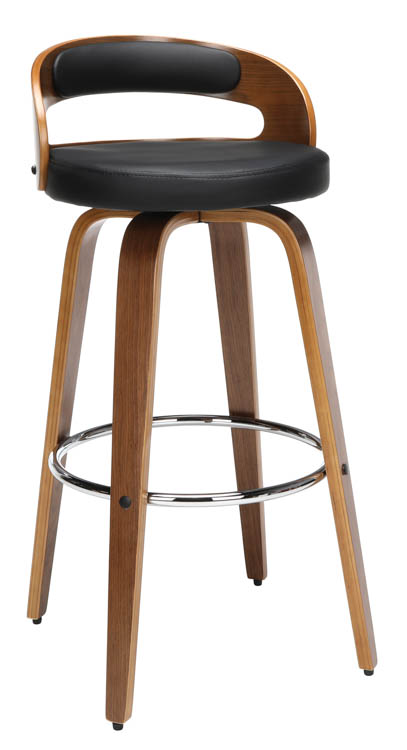 Another mid-century design, this stunning bar stool by OFM has a low-back bentwood walnut-finish frame with a black vinyl seat cushion. Its 360° swivel and height adjustment features make this chair practical and easy to use.
This unique bar stool comes in black and ivory and they can add class and sophistication to any kitchen.
---
KFI Seating Silver Frame and Wood Back Bar Stool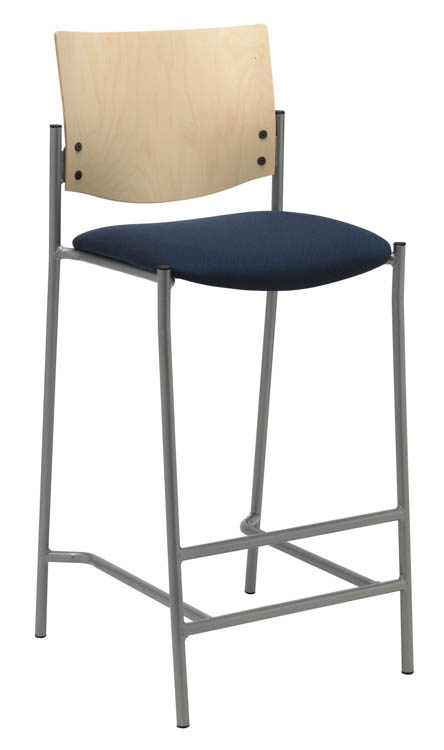 This unique bar stool by KFI Seating sports a contemporary design that combines functionality with comfort. The navy fabric seat combined with the natural wood backrest give this piece of furniture a really exclusive modern look.
It is lightweight, durable and comes in a variety of attractive colors, making it the perfect addition to any room.
---
Industrial Bar Stools Set of 2 with Backs PU Leather Upholstery
With one look, this bar stool looks and feels like you're in a military camp. Its rustic theme and unique design makes a great addition to your outdoor bar. Be aware though, this thing is heavy!
---
Christopher Knight Home Soto Barstool
If you love industrial designs, then this is one bar stool that will truly appeal to you. The delicately latticed wrought iron backrest and the heavy wrought iron four-pronged base, combined with the Firwood seat give it a juxtaposition that make this item so stunningly different.
This piece of furniture exudes a raw beauty that takes it to the level of being a piece of functional art!
---
Industrial Bar Stool by Vintage Living
With an industrial design that will brighten any room, this swivel seat cast-iron bar stool's height can be adjusted to suit your needs. The design is simple and functional, and that is what makes it so beautiful.
This versatile, heavy-duty cast iron stool can also be used as a side table or a decorative item!
---
Twist Stool by Strata Furniture
Okay, so this might not strictly qualify as a bar stool, but we just had to add it to the list since it is so stunningly unique! It is a hand-carved natural wood stool with a twisted, modern contemporary design that makes it a piece of art that can incidentally be used as a piece of furniture!
It is made from pure wood which is polished to a perfect sheen so that you can see the natural grain. The very design that makes it so unique also makes it strong and stable, perfect as a stool or even a side table!
---
Hillsdale Bridgetown Swivel Tilt Barstool in Aged Bronze Finish
This is a beautiful combination of a modern metal frame and a retro seat that gives it a really distinctive look. The weathered brown faux leather, along with the aged bronze finish gives this bar stool by Hillsdale a distinctive look.
The seat is more of a chair, with back and armrests, which means that you are really comfy when you sit in it. The stand also has a circular footrest. So, when you add the swivel feature, the level of comfort this bar stool offers is what makes it so perfect!
---
East at Main Lawson Brown Coconut Chip Square Counter Stool
Who says style cannot be sustainable and good for the environment? This bar stool design by East at Main has been created using coconut chips and natural wood from sustainable sources.
The base looks like a traditional stool, but the swivel seat gives it such an edgy and modern style! A unique bar stool that will be the topic of conversation at many a get together!
---
Modway Casper Modern Acrylic Counter Bar Stool
If you love those sleek, minimalistic modern designs, then this is a bar stool for you. Created by Modway, this bar stool can be used both indoors as well as outdoors, thus making it a very practical addition to your home. It's like sitting on an upside down glass.
Made from acrylic, this stool is strong and weather resistant. Its simple design means it can fit into any modern, industrial or contemporary styled décor and still look perfect.
---
Stainless Steel Round Top Bar Stools with Footrest
This bar stool by Costway will take you back to the 50s! Remember those diners with the lovely round stools around the counter? These bar stools will remind you of them.
The different is that these have a stunning industrial look; they are pure stainless steel, polished, to that perfect sheen. This unique bar stool will add pizzazz to your space instantly and will fit into homes with all types of décor easily.
---
Christopher Knight Home Herbert Sawyer Modern Counter Stool
Christopher Knight Home has created a stunningly simple bar stool that is so comfortable. The bold, straight stainless-steel frame is polished to a dull, matte silver, and the seat is curving and softly upholstered in microfiber that is completely spill-resistant and perfect for daily use.
This stool is at the perfect height for kitchen counters or even a nook for breakfast. Its design is sleek and will definitely add class to your beautiful home!
---
Industrial Black Wood Bar Stools Set of 2 Backless with Metal Legs
This industrial bar stool is not your ordinary stool that can be seen anyware. Well, this has a unique base that can make you look no other stools in the market! The footrest adds relaxation when sitting on this stool.
---
Topower Fire Hydrant Design Bar Stool
Okay. I love this bar stool! This is my favorite on the list. It has a fire hydrant design and a round foot rest. The seat is made with solid pine wood that is aged to achieve durability. You can adjust this stool from 24.4 inches to 30.3 inches. Though this uniquely styled bar stool needs assembly, the instructions included makes it easy for you.
---
KFI Seating Barstool with Laminate Seat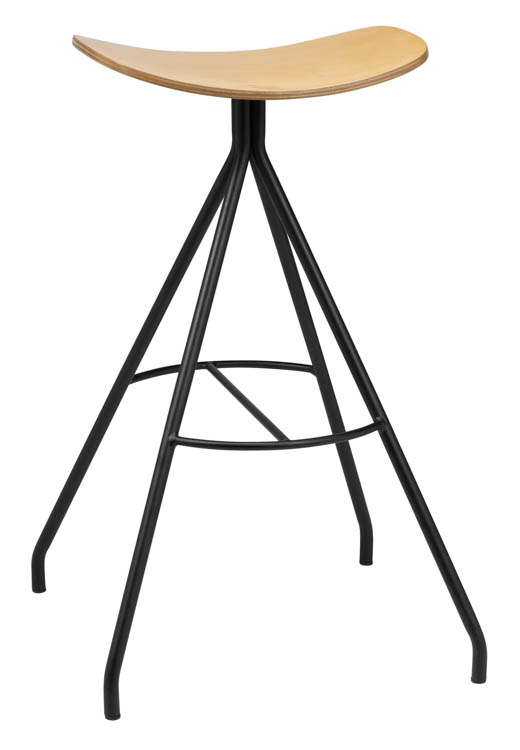 I absolutely love the simplicity of this stool's design. The European design of this bar stool by KFI Seating is functional and sleek, with absolutely no embellishments. Minimalism at its best.
These cool bar stools are made of contoured beech plywood that are contoured for added comfort. The high-pressure laminate surface ensures the durability of the product. It is perfect for your break area, or even as a kitchen stool.
---
Blue Counter Height Bar Stool Velvet Upholstery with Tufted Back
With a mesmarizing look, this bar stool will bring great looks at your kitchen. The curved, tufted back is just awesome even with just one look! This may seem luxurius but with its unique design and comfort, this may be your ideal bar stool.
---
Pomelo 30-Inch Outdoor Cast Aluminum Bar Stools
Brought to you by GDF Studio, this cast aluminum bar stool has an antique copper finish and has an intricately stunning design that will endure any weather condition, making it the perfect outdoor furniture.
The design of the chairs also makes them really comfortable, with full back and arm rests.
---
Bombo Style Gloss Finish Swivel Bar Stools
For that perfect contemporary look, check out these bar stools by Duhome. I always think of them as rather space-age – really cool! The bombo-style seats are made from plastic and have a high-quality gloss finish. That's what makes them look so sleek and futuristic!
Thanks to the adjustable height of the metal chrome base, you can use them for any bar or counter top. The addition of a rubber ring on the base makes them really stable and keep your floor from being scratched.
---
Harlem Adjustable Bar Stool by Armen Living
With a metal frame in industrial grey and a strong pinewood seat, this bicycle style adjustable bar stool will wow your visitors! This bar stool has a really cool look and will give your room a sleek industrial feel.
It is also a really versatile piece of furniture. If you don't want to use it as a stool, you can even use it as a decorative piece or even a plant holder!
---
Vintage Counter Stools
We really love this stool for its completely different design. It has an antique twisted-iron frame design, but with a modern industrial solid wood seat. It is the perfect combination of modern and vintage, and will add glamor to any room!
---
Rustic Swivel Bike Stool by Articial
Here is yet another unique bar stool design. The seat is your typical vintage round seat. But the frame is what makes it so cool. A sturdy base with footrests that are welded pedals gives this bar stool a quirky and distinctive look!
The big round base gives the stool stability, and you have the option of adjusting its height by spinning the locking bolt.
---
Stainless Steel Metal Leather Modern Counter Stool
This bar stool will make you feel so powerful! Designed like the Director's chair, this stainless steel framed, upholstered leather bar stool will give your room a truly designer look!
The cushions on the back, arms and seat don't only look good, but they also make this beautiful chair really comfortable!
---
Deco Bar Stool
A simple bar stool that stands out for its classy design. With an iron base designed like a bicycle, footrests that are welded pedals, and a solid polished wood seat, this industrial bar stool is elegant, sophisticated and functional!
---
Rustic Industrial Bar Stool by LOKKHAN
Don't you just love it when two different styles combine to form something completely unique? Like this bar stool – cast iron tractor seats, comfortable horizontal footrests and beautifully carved legs. Truly uniquely beautiful!
---
Hart Velvet Stool by Tov Furniture
There are some chairs that you love because they not only look good, but they also look comfortable – a chair you want to sit in. Well, this is one of those stools.
A counter height upholstered bar stool with a cushioned backrest that will give your room an amazingly classy look. The frame is jet black, with brushed steel tips on the legs and foot rest, and the seat is luxurious and velvety.
---
Tallahassee Outdoor Adjustable Bar Stools
These stools will be the perfect complement to your modern home's contemporary outdoor bar! Using real steel pipes, this barstool has combined an angular pipe frame with plush, outdoor cushions.
The chairs are protected from the elements with powder coating, which means that they won't rust. A truly cool barstool that will give an edgy yet classy look!
---
Elysium Outdoor Wicker Barstool
This unique bar stool, made from wicker and iron, is the perfect bar chair for the outdoors. The water-resistant cushions provide added comfort as well as durability.
---
Modern Padded Wood Adjustable Height Swivel Bar Stool
Class and comfort combined in this traditional bar stool is what make it so special. The stand is polished chrome, while the seat, back- and armrests are retro-style padded wood.
Designed to create a sense of power, this bar stool is sure to add style and class to your room!
---
Tov Furniture Ferra Steel Barstool
This is one of the coolest bar stools designs we have ever seen. This modern, minimalistic piece of furniture has a backless seat upholstered with luxurious eco-leather, and a gold-brushed metal frame.
The wide base makes it stable and the stainless-steel frame makes it sturdy. Beauty and functionality in straight, simple lines!
---
Zuri Furniture Slate Monza Swivel Armless Bar Stool
A beautiful meld of chrome and leatherette, this is the bar stool that will give your home a modern, class and sleek look. Its design is such that it is not just attractive, but very, very comfortable too.
---
Rustic Industrial Farmhouse Tractor Seat Bar Stool
A rustic look combined with an industrial design takes this bar stool to the next level of class. The round pine seat is comfortable, and the adjustable height of the stool makes it right for anyone. The metal frame ensures stability and durability, making it the perfect long-term buy.
---
CorLiving Adjustable Bar Stool
We love the futuristic look of these unique bar stools. A strong and shiny chrome base with footrest keeps these bar stools stable, while a unique futuristic seat made from leatherette gives them a really cool, funky look.
Perfect for any modern home, these chairs are also durable and sturdy!
---
Pantini 30-Inch Mixed Black Wicker Barstools
Your outdoor kitchen bar is really going to look good with these stunningly comfortable wicker bar stools. The sturdy design and weather resistant material will keep these chairs looking great for a long time to come!
Now, you can have beautiful, stylish furniture inside as well as outside your home!
---
Jessie Outdoor Wicker Bar Stools
Your outdoor furniture can also be stylish, as these outdoor wicker bar stools prove. A delicious blend of rattan and metal, you get a fantastic blend of the classic with the modern.
These bar stools will definitely bring a unique style to your outdoor space. And the best part is that they are durable and resistant to the weather, so they are the perfect deal for you.
---
Klatack Antique Finish Firwood Swivel Adjustable Barstool
Gorgeous metal swiveling industrial design bar stools that are masculine and strong, and yet complement any home! The dark iron frame with tripod legs give them a unique, rugged look, while the firwood seats make them comfortable to sit on.
The adjustable height function makes them versatile, so that these stools can be used for any kind of table you want to match them up with.
---
Chase Reclaimed Swiveling Iron Barstool with Firwood Seat
These classy industrial style bar stools have an edgy and sleek design that will accent the décor of your home. The frame is wrought iron with a dull, polished sheen and rounded curves and the seat is a distressed reclaimed firwood.
The swivel function offers easy maneuverability, and the adjustable height function makes it perfect for all your guests.
---
Amalfi Stainless Steel Adjustable Bar Stool by Tov Furniture
Sleek lines, shining stainless steel frames, and gently curving, cushioned seats with backrests make these bar stools so arresting. The combination of white and silver steel makes these pieces of furniture complement light-colored theme interiors.
But looks aren't the only thing in their favor. They are strong, durable and comfortable too.
---
Topower American Antique Vintage Industrial Barstool
Another really interesting bar stool design that make us falling in love with it! Take a vintage fire hydrant as the stand, add pipes as the solid base, and a strong natural pinewood seat, and you have this amazingly different bar stool that will be a talking point at every party!
These seats aren't just eye candy, they are functional with adjustable heights and swivel seats too!
---
Christopher Knight Home Charlie Saddle Bar Stool
Industrial designs can be artistic and fun too! And this bar stool design proves that fact. A vintage tractor swivel seat with a rustic design and an adjustable height metal base is what makes this bar stool fun and functional!
---
Boraam Square Rush Seat Bar Stool
Take rustic tradition and mix it up with modern styles and you get this really cool bar stool that will brighten up the whole room! This hardwood stool has a rush woven seat, and it is not just pretty, but also really comfortable.
For those of you who love that warm, rustic look that also manages to have a modern touch, this is the stool for you!
---
Foreign Affairs Home Decor Elegant Bar Stool CERUS

It just takes one little piece to make something completely unique. Take a simple, modern industrial wide-legged metal stand and add a cowhide seat to it, and voila! You have a totally stunning design that will make your bar or kitchen or even office really stand out!
---
The Bari Collection – Backless Swivel Stainless Steel Industrial Barstool
Tov Furniture really produces some of the most unique modern industrial bar stools. They have starkly stunning designs that will add character and class to any modern home. This leatherette-upholstered bar stool has a stainless-steel frame with a strong, square base for added stability.
---
Christopher Knight Home Sydney Barstool
Design combinations always produce unique pieces of furniture, and these cool bar stools are a testament to that theory. This mid-century modern bar stool is not just comfortable and elegant to look at, but it is also sturdy and durable. A great addition to any home.
---
Christopher Knight Home Grady Antique Finish Firwood Barstool
When you combine a modern design with an antique finish, you get some pretty amazing furniture. This adjustable height, swivel bar stool is built with a circular foot rail that ensures that you can rest your feet comfortably no matter which way you sit.
The firwood frame with iron tips and iron footrail give this bar stool a really striking look and all your guests will want to know where you got it from!
---
Hydraulic Indoor/Outdoor Bar Stools
We love the idea of these multi-functional bar stools! They can be used both indoors as well as outdoors. They have a unique stylish charm that will brighten your home – both inside and out.
The stool's sleek chrome stand has a large round base with a rubber ring, making it both sturdy and stable. And the seat is designed to be breathable as well as comfortable. Style and comfort, all rolled into one neat design!
---
Ajay Stainless Steel Bar Stools
This bar stool from Seville Classics is not your usual bar stool. What make this unique from other stools is its pneumatic functionality. Just adjust its gas-air level to achieve a height up to 29.750-inch high.
The design itself makes this chair stable and the seat itself is surprisingly comfortable.
---
Indoor Rattan and Wicker Swivel Bar Stools
Rattan and wicker don't always belong outside. These indoor bar stools show how a traditionally outdoor material can be used for indoor furniture – with style.
The bar stools have a traditional high chair design, and is made from commercial quality rattan. The wood is polished to a lovely deep sheen, and the seat comes with a cushion that makes it really comfortable.
---
Minimal Design Hydraulic Swivel Bar Stools
If you love minimalistic designs then you need to check out this set of bar stools. The pedestal base is made from shiny, polished chrome, and it also has a comfortable footrest.
The seat comes with a backrest, and both are padded and upholstered for comfort. You can adjust the height of the chair using the hydraulic level at the base of the seat, which is really convenient.
These chairs will fit seamlessly into a modern home!
---
QenDsx Iron Bar Bar Chair
Here is a unique bar stool that combines opulence with simplicity. Sounds contradictory, doesn't it? Well, when you combine a stunningly rich velvet upholstered seat with a sleek, yet starkly simple metal frame, that is exactly what you get!
Metal iron legs in shining gold with that beautiful velvet seat is what makes this bar stool so opulently simple! If you want to add a touch of glamor to your space, consider these chairs!
---