A coffee table isn't merely a piece of furniture. Often, people buy coffee tables just to make their living room, patio or lounge look and feel much more complete and expressive. But one would need to choose a table from truly cool unique coffee tables to achieve such an effect.
If a unique coffee table is a thing that you are looking for, then lucky you! We have picked over 50 coffee tables to showcase today, and each of them is unique enough to be able to offer something entirely new for you. And without further ado, let's see what they have to boast!
Recommended reading: Cheap coffee tables under $100
Emerson Rectangular Mod Swivel coffee table boasts a sleek design that is reminiscent of the late 1960s. Aside from the eye-catching design, this coffee table features a rotating tabletop that can be angled 90 degrees right or left. And it also has plenty of room for your drinks and other essential items.
---
Kendall Oval Mod Swivel coffee table by Christopher Knight Home also reminds of the late 60s, but it has a smooth oval shape. In addition, it has two rotating oval tops that make this table not only unique but also practical since you are essentially getting additional two tabletops.
---
This handmade coffee table could be a fine addition to your seaside house. This surfboard-shaped coffee table features a raw and worn-off yet fine finish of a surfboard that has just been washed ashore, which could make it a great centerpiece for your backyard. Check it here.
---
The stylish WOHOMO Coffee Table is a one of a kind combination of end table and coffee table. Besides, its rustic walnut finish would allow you to highlight the dark shades in your interior. Check it here.
---
Ophelia Modern Mirrored Coffee Table might also be a good choice for a living room. It is somewhat less practical than the other coffee tables we reviewed since it doesn't have as much storage space. But it sure could highlight glass and wood elements in your room. Check it here.
---
Made from an authentic recycled wine barrel, this coffee table would be an excellent choice for wine lovers. If you happen to be a sommelier, then this coffee table would be able to perfectly accentuate your profession. Check it here.
---
This particular wine barrel coffee table has a slightly more modest design than the other barrel table we examined. Made from a vintage whiskey barrel, this coffee table has a top on a hinge that pretty much makes it a storage chest. Check it here.
---
The unique feature of the elegant Festnight coffee table is its rotatable tabletop that reveals a hidden storage compartment below. Besides, the high-gloss table surface and the reflective steel legs impart beautiful looks to this table. Check it here.
---
Solanna Mirror coffee table is an excellent piece of furniture to add some more natural light to your room with. Its mirrored finish on the white faux wood will playfully reflect any light to enhance the illumination in your room. And the finish certainly looks wonderful.
---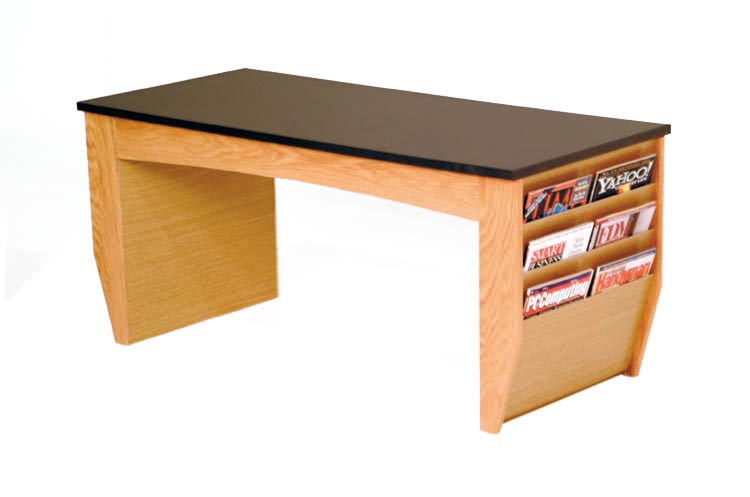 Nowadays, people don't read magazines that much. But if that doesn't apply to you, then Wooden Mallet's coffee table could be the right pick for you.
This coffee table features magazine pockets on the sides. Aside from keeping the magazines within your reach, this coffee table would also allow you to neatly collect your favorite magazine numbers. Check it here.
---
This Emerson coffee table is identical to the Emerson rectangular table we examined in the very beginning, but this one is elegantly shaped like an oval and smaller. As for the rest, it has got the same features as the rectangular version of the coffee table.
---
This coffee table could make for an excellent centerpiece in your living room. If you want to show off your unique taste in books or your sense of style with your favorite item, then the Jodie coffee table may be the right pick for you.
---
If you are a fan of foosball, then you will certainly like the Chicago Gaming Signature Foosball Coffee Table. Even if you find that this table is too low for playing foosball, you could still make it a centerpiece in your living room. This table could also emphasize your soccer trophies if you happen to have won a couple back in the days. Check it here.
---
This handmade coffee table certainly is a piece to behold. Its tabletop made with two concrete slabs and a black walnut plank in the middle could become a timeless addition to your home décor. Check it here.
---
Table Audio Cassette Tape BASF Coffee Table sure is a vintage table. With its tabletop made in the shape of a compact cassette, this coffee table could be a beautiful addition to your playroom or maybe even the living room. The folding side of this table also covers a deep storage compartment that could keep your items organized and away from view. Check it here.
---
You may think that this coffee table is a simple black box with a slight gloss to it, but it, in fact, is quite a versatile piece of furniture. Its sides pulling apart expose a roomy storage compartment that can be easily opened and closed on demand. Thanks to its compact size, this coffee table could pose both as a side and a dining table. Check it here.
---
This vintage coffee table coated in Chinese lacquer could become an excellent decorative piece for your living room. Made from premium-quality Philippine mahogany, this coffee table makes for an excellent centerpiece to catch the eyes of your guests with. Check it here.
---
A rustic living room or a lounge would most likely greatly benefit from such a coffee table. This table is made from natural hickory that will color with age, further improving its authentic look. If you happen to be looking for a minimalistic coffee table that will last for ages, then this table could be the right choice for you. Check it here.
---
What makes this stand out from the other coffee tables we reviewed is its mobility. This table has wheels instead of legs that make it very easy to move around. Apart from that, it has a raw design making it an excellent addition to your backyard. Check it here.
---
This Oval Mod coffee table is almost identical to the Kendall coffee table we examined earlier. This table has got the two familiar rotating tabletops. However, what makes this coffee table different is its black oak finish, which should make this table more appropriate for interiors with prevailing dark colors. Check it here.
---
The base of this table shaped like a metal galloping horse trio doesn't make this coffee table the most versatile table in the world, but it certainly makes this table stand out. Add to that the round glass top, and you get a coffee table that could make for an excellent decorative piece or a great gift. Check it here.
---
While the barrel shape doesn't stand out in this coffee table as much as in the previous two wine barrel tables we reviewed, this table offers much more tabletop area. The solid pinewood coated in a multi-layer lacquer finish also imparts excellent durability to this table. Check it here.
---
This Ottoman coffee table may not be the best choice for beverages, but it indeed is a great coffee table to rest your feet on thanks to its ottoman bench upholstered in bonded leather. This coffee table also has a storage shelf beneath the feet stool to hold your necessities. Check it here.
---
Probably very few coffee tables could accentuate the surrounding décor as well as this Xanthe Modern Mirrored coffee table. Apart from its frame, its every surface features a mirrored finish. In addition, this coffee table has plenty of storage space thanks to its two drawers and a bottom storage shelf, so it is as practical as it is beautiful. Check it here.
---
From the point of view of the design, the Zuri Zion coffee table has very minimalistic yet expressive looks. The Zion coffee table could strongly complement an interior with a plentitude of edges and right angles. And when it comes to practicality, this coffee table boasts a multi-level tabletop surface. Check it here.
---
The Terrarium Display coffee table allows you to bring in your lowlight houseplants and potted cacti to have some gardening fun right in your living room. But if you don't really wish to deal with the dirty mess that may occur in your room, you could just use the display area of this table to showcase your favorite items. Check it here.
---
The Jingle coffee table could make for a perfect addition to your backyard or essentially any outdoor area in your property. Its brutal and raw body made of lightweight concrete could certainly become the centerpiece of your home environment if you have the right décor for it.
---
This coffee table would be a great choice for outdoor use just as much as it would be for indoors. It boasts a durable aluminum frame with a quality rattan cover, both of which could withstand outdoor elements. But possibly the most remarkable feature of this table is its smooth lines and clean finish.
---
If you wish to have a storage-efficient coffee table, then Mecor Nesting Coffee Table is an interesting option. It features 3 separate coffee tables that can be nested in each other. When necessary, you could take all the 3 tables out to have more surface, and when not, you could just take the tallest table to save your space. Check it here.
---
Yet another coffee table with two rotating tops, but this one has a rectangular shape. This table may limit your room due to its edges, but it also will offer more surface area for your items on top. Check it here.
---
The O&K coffee table comes with 4 nesting stools upholstered in fabric of 4 different colors. This set is not only space-efficient but also stylish: its wood texture and colorful stools will certainly complement rooms with predominant light shades. Check it here.
---
TUORUI coffee table features two separate tabletops situated on different levels. You could use one of the tops for your drinks and the other for your laptop. Apart from looking unique, this coffee table would allow you to keep your important items safe in case you spill your drink. Check it here.
---
SUNCOO coffee table would be a suitable choice for interiors where curves and round shapes are abundant. Besides, even if your room has mostly straight edges, this coffee table could add some contrast to your interior to even things out. Check it here.
---
This elegant coffee table is a real eye-catcher. The mango wood legs covered in black finish and the solid teak tabletop make this table both beautiful and practical. The transparent resin paired with crushed glass atop the table ensure a stable surface for you to place your drinks, fruit bowls, and vases on. Check it here.
---
The shape of this coffee table may be impractical for putting many items and drinks, but it sure looks unique. The solid cedar wood tabletop with natural edges would complement interiors affluent in wood textures, but its shape may make it look slightly out of place unless you have plenty of plants in your room to complement its tabletop. Check it here.
---
ioHOMES Trenton coffee table boasts four spacious compartments within its geometric design. Aside from that, its top centerpiece flips over to reveal a tray compartment. This table is sure practical, but it also has a gorgeous dark walnut finish option that would fit many interiors. Check it here.
---
Festnight coffee table showcases an elegant water-drop shaped base with a high-gloss white finish crowned with a round glass tabletop. We feel that this table would make for a great side coffee table, though it could still be a great piece to put in the center of your living room. Check it here.
---
Mango Steam coffee table offers a fairly traditional look. However, having a faux cement tabletop, a lustrous stainless steel base, and woodgrain textured laminate legs, this coffee table could make for an excellent centerpiece in any room. Check it here.
---
The first thing that catches the eye in this coffee table is its beautifully carved rosewood design with a vintage feel. That isn't the most interesting thing about this table: its tabletop in reality is a collapsible rosewood fruit basket. The chic basket could be used to serve your guests flavorful fruits or maybe to showcase your favorite items. Check it here.
---
The Zuri Lexie coffee table features a clear glass top on a geometrically-shaped walnut base, which is actually the eye-catcher of this table. You won't be getting as much storage area from the Lexie table as from others, but this coffee table could become an excellent addition to your living room. Check it here.
---
Have you seen many coffee tables with glass as legs? You may think its inappropriate but it is part of its uniqueness. This coffee table has tempered glass base. Yes you heard it right, but it is not just an ordinary glass of course. This will look good on living with carpet.
---
PRIMST coffee table truly is a multifunctional piece of furniture. It features an inbuilt refrigerator with two individual temperature zones with adjustable temperature, Bluetooth speakers, a USB charging port, and an AUX interface.
With this coffee table, you wouldn't even need to leave your sofa to get a snack since everything you need could be within your reach. Check it here.
---
We have already examined a coffee table with a tree root-like base, but what about a table with a genuine teak root base? If you are keeping plenty of plants in your living room, then this coffee table would further accentuate the natural feel of the interior. Check it here.
---
Exceptionally minimalistic yet stylish, the Modway coffee table could be a striking addition to your living room or office space. This coffee table does not only look good but is also highly durable thanks to its tubed frame made of stainless steel. Check it here.
---
The most remarkable feature of this coffee table is the pair of casters installed in the back. While coffee tables are compact, they aren't very easy to move around, so a pair of wheels would certainly come in handy. And besides, you may like the slight antique vibe that this coffee table has. Check it here.
---
Festnight sure loves elegant table bases abundant with curves. This table is no exception, but we feel that its base is much more minimalistic than the water-drop base of one of the Festnight coffee tables we examined earlier.
Modestly elegant, this coffee table would be a nice addition to a wider range of interiors. Check it here.
---
This coffee table is yet another sleek coffee table on our list, but this one, apart from being gorgeous, is also quite practical. It has got a spacious glass tabletop and an oak woodgrain veneer to accommodate your essentials. And the table's base emerging through the glass top attaches a more expressive look to this table. Check it here.
---
Without a doubt, Art Deco coffee table would be an excellent choice for book lovers. Bonus points for you if you have a book cabinet in the room you will be putting this table in since it will greatly highlight your interests! Check it here.
---
The brown Abaca tabletop is not very common on every coffee table. This low-type coffee table from East at Main will surely attract your eyes with its handcrafted, natural brown texture of Abaca. It comes preassembled so you won't worry about any assembling tasks. Check it here.
---
Our last unique coffee table on the list is the trapezoidal shape coffee table by WoodShine. What we love about this furniture is its simplicity yet out of this world design. The hanging storage on the site can be rarely seen in any coffe table. You can store magazine, remote control and other slim things in it. Check it here.
---